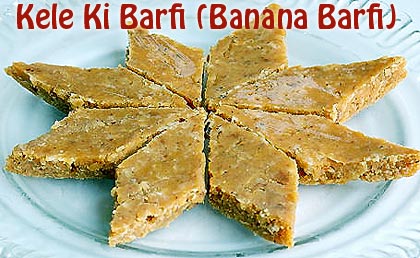 Kele Ki Barfi (banana barfi) is one of the most tastiest sweet dish made with ripe bananas, coconut and khoya. Learn how to make delicious banana barfi (sweet delight) that consists several nutritional values and good to eat in vrat (fasting).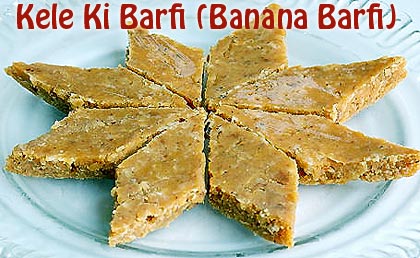 Preparation time: 10 minutes
Cooking time: 20 minutes
Servings: 8
Ingredients:
5-6 big ripe bananas (fully prepared)
2 cups condensed milk
3 cups sugar
2 cardamoms crushed
2-1/2 tbsp butter
2 tbsp khoya
2 tbsp fresh cream
1-1/2 cups grated coconut
Few almonds thinly chopped
Few walnuts chopped
A pinch of salt
How to make Kele Ki Barfi:
Remove the outer skin of ripe bananas and mash them with the pav bhaji masher.
Bring the milk to few boils and add mashed banana, salt, sugar, khoya, cream and butter.
Mix very well and stir continue until mixture becomes thick and little brown in color.
Add grated coconut, cardamoms and chopped nuts.
Stir for few more minutes on moderate heat.
On the other side, take a big plate with side walls and grease with little amount of butter.
Turn the gas off and transfer the barfi mixture on to a greasy plate.
Spread the mixture and make a thickness of about 3/4 inch.
Leave for few minutes until it sets.
Cut into desired shapes and pieces and serve.
Chef Tips:
You can store this delicious banana barfi for few days in air tight container.
I have mixed the chopped nuts during its cooking, but you can mix them at the end just before serving.