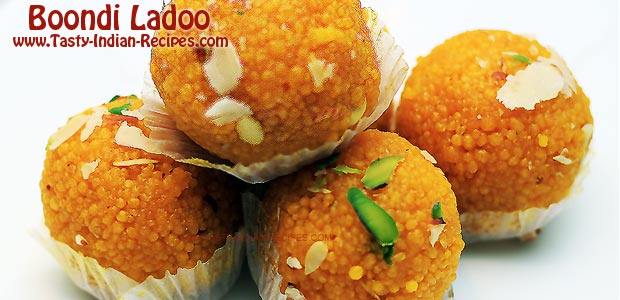 Boondi Ladoo is one of the most famous Indian sweet dish made with bengal gram flour, milk and ghee. These are the special Festival laddoo that brings sweetness to everyone's life.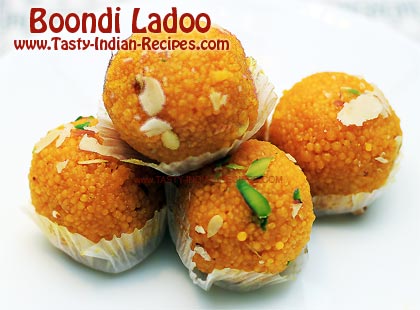 Preparation time: 10 minutes
Cooking time: 30 minutes
Servings: 15
Ingredients:
4 cups bengal gram flour (besan)
1 Cup whole milk
1/2 tbsp poppy seeds
1 tbsp green cardamoms crushed
2 cups sugar
1/2 tsp red-orange food color
Few almonds chopped
Few pistachio chopped
Few raisins
Silver paper (cover of sweets)
Ghee/oil to deep fry
How to make Boondi Ladoo:
Dissolve the sugar in 4 cups of water and make a single thread consistency syrup.
Add food color into the sugar syrup and mix well. Keep aside.
Mix the besan, milk, poppy seeds very well and add 8 cups of water.
Make a thin batter just like pouring consistency.
Keep constantly stirring to avoid the lumps from the batter.
Add little bit of orange food color and mix again.
Heat good amount of ghee in a non-stick pan.
With the help of perforated spoon, pour a very little amount of batter into the hot ghee and make boondis.
Fry for about 2 minutes and then with the help of slotted spoon, put the fried boondis into the prepared syrup.
Add crushed cardamoms and slowly mix it.
Divide the mixture into small portions and shape each into a round ladoo.
Cover little portion of the laddu with silver paper and garnish the prepared ladoos with chopped almonds and pistachios.
You can garnish these ladoos with raisins as well.
Allow the laddoo to cool completely and store them in an air tight container.
Chef Tips:
You can store these delicious boondi ladoo for few days, store them in an air tight container.
These ladoo are extremely heavy because of ghee and besan, hence consume them in a proper portion.