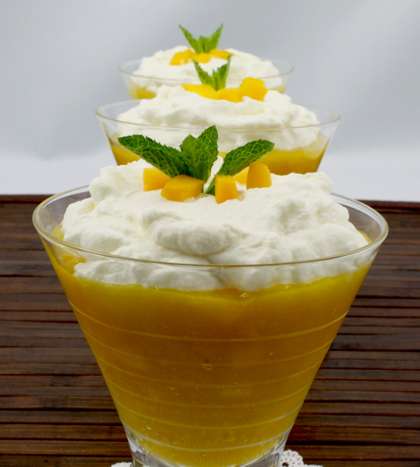 Mango Custard is kid's favorite desert. I have selected fine ripe mangoes and fresh skimmed milk with coconut extract and going to make this delicious custard for my kids. My custard will definitely win the hearts of both mango and custard lovers.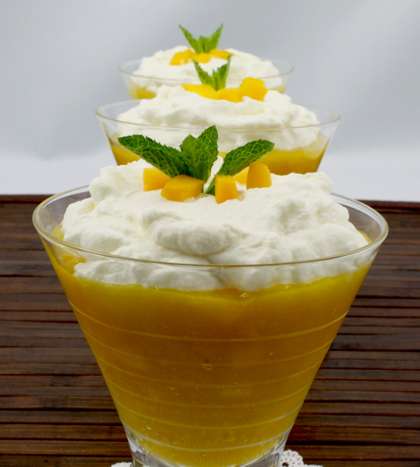 Prep time:
Cook time:
Total time:
Yield: 2 servings
Ingredients:
3 ripe mangoes (cut into big chunks)
2 cups skimmed milk
2 tbsp coconut extract
1-1/2 tsp lemon juice
5 tbsp brown sugar
1/2 cup cornstarch
A pinch of salt
2 tbsp thick fresh cream
2 tbsp mixed dry nuts (finely chopped) (to garnish)
1/2 tsp fine diced mangoes (to garnish)
How to make Mango Custard:
Combine mango chunks, lemon juice and coconut extract in a blender jar.
Blend for few seconds until smooth.
Heat a small saucepan and saute remaining ingredients except garnishing ingredients.
Mix until cornstarch is fully dissolved.
Now carefully stir in mango mixture.
Cook over medium heat by stirring constantly, until mixture comes to few boils.
Continue to cook and stir for 3-4 more minutes.
Transfer into a bowl and let it cool.
Chill thoroughly.
Garnish with chopped nuts and fine diced mangoes just before serving it.