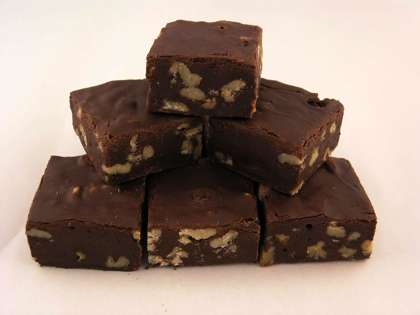 Chocolate Fudge is the simply made fudge dessert having the unique combination of semisweet chocolate, condensed milk, butter and dry nuts. It is a yummy treat to enjoy any occasion.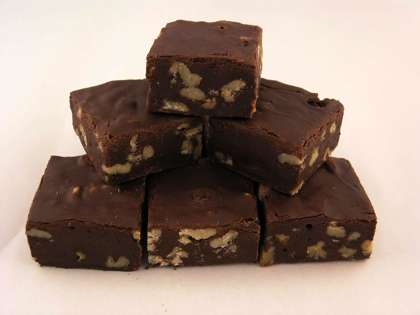 Preparation time: 10 minutes
Cooking time: 35 minutes
Servings: 20 chocolate fudge's
Ingredients:
500ml condensed milk
300 gms semisweet chocolate
2 cups mixed nuts (peanuts, hazelnuts, walnuts, almonds and pistachios)
1 cup unsalted butter
1 cup brown sugar
1-1/2 tbsp vanilla extract
2 foil papers
1 tsp butter to spread on foil papers
How to make Chocolate Fudge:
Chop the chocolate in small pieces and keep asides.
Chop all the nuts in the chopper.
Roast them in a sauce pan, remove the outer layer and keep aside.
Mix the milk, sugar, chocolate and butter in a heating pan.
Stir frequently till the chocolate, butter and sugar melts completely.
Leave to get a nice fudge color.
Stir until becomes smooth but thick in consistency.
Add the roasted chopped nuts and vanilla extract and cook for a couple of minutes.
Spread the fudge evenly with the flat spatula.
Leave to stand at room temperature.
After the proper setting of fudge, remove it from the pan.
Spread little bit of butter on each foil paper and place the fudge on it.
Cut the fudge with the sharp knife into 1 inch pieces.
Serve hot.
Chef Tips:
You can store this chocolate fudge in the refrigerator for 6-7 days.
You can also freeze them for 2 months.
Unwrap the chocolate fudge for 2 hours just before the serving.