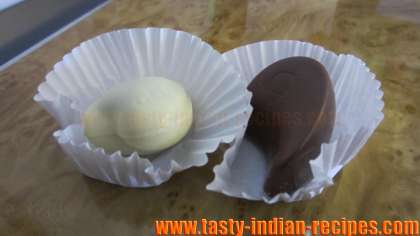 These cute, homemade rich Chocolate candies will definitely satisfy your chocolate craving. Smooth and dark chocolaty glaze and a delicious frosting rosette gives a unique taste and style to these colorful candies.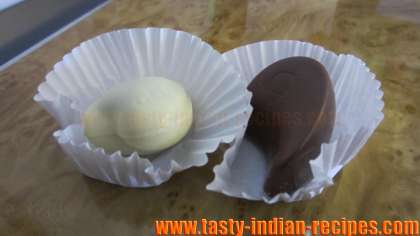 Prep time:
Cook time:
Total time:
Yield: 16 servings
Ingredients:
1 cup milk or bourbon
1 cup softened butter
4 ounces unsweetened chocolate (chopped)
2 tsp vanilla
4 big eggs
1-1/4 cups powdered sugar
1/2 tsp baking soda
1 cup all-purpose flour
5 tsp instant coffee granules
For making Milk Chocolate Frosting and Semisweet Chocolate Glaze you will require:
18/ 3/4ounce package milk chocolate pieces
1-1/2 cup whipping cream
20 ounce package semisweet chocolate pieces or 1-1/2 cup bittersweet chocolate pieces
How to make Homemade Chocolate Candy :
Heat a saucepan and melt the butter in it.
Mix the unsweetened chocolate in melted butter and stir over slow heat until smooth.
Remove from heat and set aside to cool.
Preheat oven to 400 degrees F and Line an 8x8x2-inch baking pan with foil.
Make sure that the edges of the pan are covered with foil.
Spread some butter over foil and keep aside.
Take a small bowl and stir together bourbon and coffee granules. Set aside.
Mix the sugar in the prepared chocolate mixture very well.
Beat the eggs one by one in a bowl and then stir in sugar-chocolate mixture.
Mix until well combined and then stir in vanilla and bourbon mixture.
Take another small bowl and stir together flour and baking soda.
Mix the flour mixture to chocolate mixture and stir just until combined.
Spread the prepared chocolate batter evenly in the prepared baking pan.
Bake in preheated oven for 17 minutes.
Cool in pan on a wire rack.
Using the edges of the foil, lift the uncut choco candies out of the pan.
Cut each candy into a small round shape or cut into square. The choice is yours.
Now lets proceed for milk chocolate frosting and semisweet Chocolate Glaze.
Heat a saucepan and bring whipping cream on few boils over moderate heat.
Remove from the flame and transfer 1/2 cup of the hot cream into a small bowl.
Add milk chocolate pieces and without stirring, just let stand for 5-6 minutes.
Stir until smooth and cover loosely.
Keep in the refrigerator to chill at least for 2 hours.
For Semisweet Chocolate Glaze, mix the remaining hot cream in semisweet chocolate pieces  and keep stirring on low flame until smooth.
When ready to glaze petits fours, reheat Semisweet Chocolate Glaze over medium-low heat to reach pouring consistency, stirring constantly.
Coat each candy with the prepared glaze.
For that beat the reserved cooled milk chocolate mixture with an electric mixer until light and fluffy.
Spoon frosting into a decorating bag fitted with a large star tip.
Pipe large rosettes in the center of each petit four.
Allow them to cool at room temperature for 10-15 minutes and then store them in an air tight container.
Chef Tips:
You can store these yummy, homemade chocolate candies in refrigerator for 4-5 days or you can freeze them for upto 2 months.
Nutritional Facts:
cal. (kcal) 157,
Fat, total (g) 10,
chol. (mg) 43,
Cobalamin (Vit. B12) (µg) 0,
sat. fat (g) 6,
carb. (g) 18,
Monosaturated fat (g) 3,
Polyunsaturated fat (g) 0,
vit. A (RE) 0,
sugar (g) 12,
pro. (g) 2,
Thiamin (mg) 0,
vit. A (IU) 243,
fiber (g) 1,
vit. C (mg) 0,
Pyridoxine (Vit. B6) (mg) 0,
Riboflavin (mg) 0,
Niacin (mg) 0,
Fat () 2,
Folate (µg) 4,
calcium (mg) 10,
sodium (mg) 90,
Potassium (mg) 60,
iron (mg) 1,
Other Carb () 1,
Percent Daily Values are based on a 2,000 calorie diet