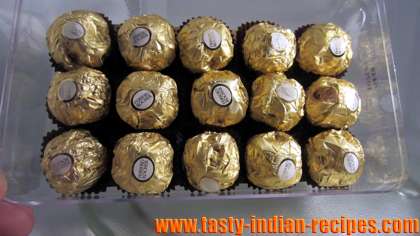 Homemade Ferrero Rocher are the mouth watering chocolaty truffles, fully blended with lots of chocolate chips and hazelnut cookies. Ferrero Rocher is a spherical chocolate sweet made by Italian chocolatier Ferrero SpA and Rocher comes from French and means "rock".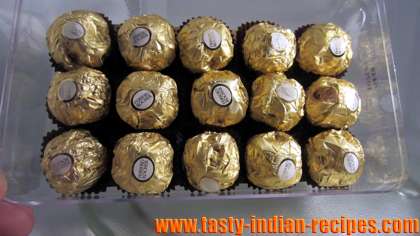 It was introduced in 1982. These chocolates consist of a whole roasted hazelnut encased in a thin wafer shell filled with hazelnut cream including vegetable oil and covered in milk chocolate and chopped hazelnuts.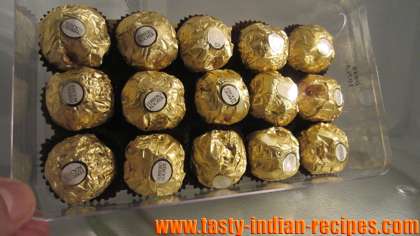 Each sweet contains 73 calories, but the most interesting thing is that each and every chocolate is individually packed inside a gold-colored wrapper.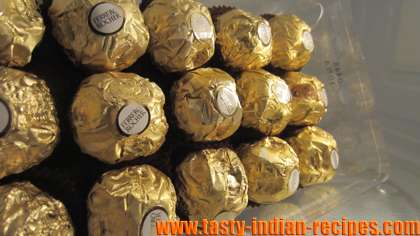 Here is the simplest way to make these tiny truffles and trust me these easy truffles are worth the time, as they will become your favorites very soon.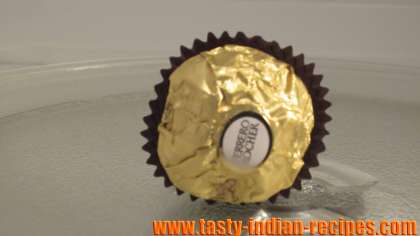 Prep time:
Cook time:
Total time:
Yield: 26 servings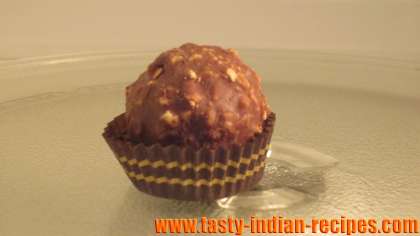 Ingredients:
1/2 c  hazelnuts or walnuts, (filberts) crushed
1/2 c  hazelnut cookies, crushed
1 c  nutella
1 1/2 c  semi sweet chocolate chips (dark or milk chocolate)
How to make Homemade Ferrero Rocher Truffles:
Preheat the oven at 400 degrees F and spread the hazelnuts on a rimmed baking sheet.
Roast them in the oven for about 5 minutes, until they are warmed through and aromatic.
Remove from the oven, cool completely and then rub their skins off with a tea towel.
Chop the hazelnuts into fine pieces and combine with wafer biscuits.
Add Nutella and mix very well with your hands.
Roll approximately 1 heap tsp of the mixture into a round shaped ball.
Repeat and make 40-45 same size balls, depending on the size. (If the mixture is not firm enough to roll, put it in the refrigerate for 15-30 minutes until it's firm enough to roll into balls.)
After making the balls, put in the refrigerator for 45 minutes to firm up.
Melt the chocolate and set aside to cool.
Take out the balls from the refrigerator and dip into the melted chocolate.
Dip the balls in such a way that they must fully coated with melted chocolate.
Make sure, not to leave any single space.
Let them set in room temperature for few hours in winter season.
If the weather is too hot, then set them in the refrigerator.