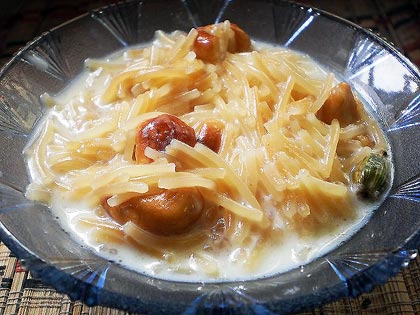 Vermicelli Kheer (Pudding) is the special, sweet delight made with seviya, milk, sugar and saffron. This pudding really makes the mouths watery when served in front of guests. The best dessert to serve for celebration of several Indian festivals.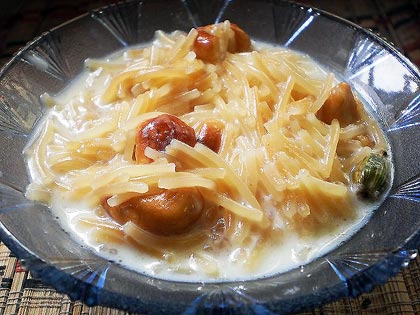 Preparation time: 5 minutes
Cooking time: 20 minutes
Servings: 4
Ingredients:
250 g (a packet) Seviya (Vermicelli)
1 kg milk
1/2 tsp rose-water
1/2 tbsp cardamom powder
4 tbsp sugar or adjust the sugar as per the sweetness you require
2 tbsp almonds blanched
2 tbsp cashew nuts chopped
2 tbsp pistachio chopped
Few saffron strands
2 tbsp pure ghee
How to make Vermicelli Kheer (Pudding):
Break the vermicelli in a big bowl.
Melt the pure ghee in a deep shaped pan.
Add broken seviyan and stir continue until turns into golden brown in color.
Keep stirring to avoid the burning.
Add milk, sugar, cardamom powder and saffron.
Mix very well and bring the mixture to few boils by stirring constantly.
Cook over medium high heat for about 12-15 minutes until it thickens.
Add rose-water and chopped dry fruits.
Mix and cook only for 5 more minutes and turn the gas off.
Allow the pudding to cool at room temperature.
You can serve it warm or cold in individual serving bowls.
Chef Tips:
Vermicelli Kheer is the delicious sweet delight, whether served warm or chilled.
Serve this yummy pudding with hot wheat flour puffed up puri's and enjoy the yummy breakfast.