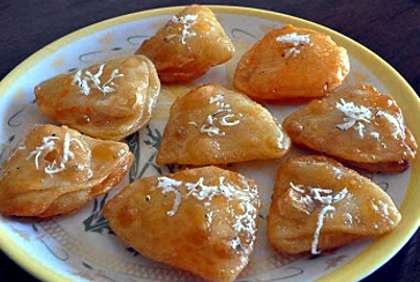 Badam Puri is a yummy, soft and crispy sweet delicacy, beautifully layered with a great taste of badam, milk, cardamom, ghee and sugar syrup.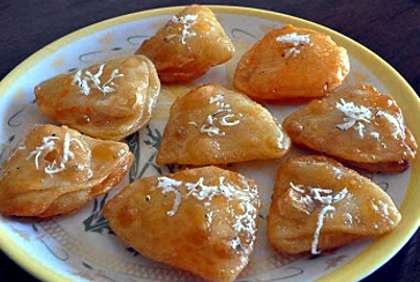 Prep time:
Cook time:
Total time:
Yield: 10 servings
Ingredients:
3 cups Maida (all-purpose flour)
1 cup rice flour
1 cup badam (almond) paste
2 cups condensed milk
1-1/2 cups pure ghee
1 cup oil
For making sugar syrup you will require:
1-1/2 cups water
3 cups sugar
1 tsp ground cardamom
1 gm saffron (kesar)
How to make Badam Puri:
Mix all-purpose flour, rice flour, milk and almond paste in a big bowl and keep aside.
Heat the water for making sugar syrup.
Add saffron, sugar and cardamom into boiling water.
Stir continue to make a thick consistency sugar syrup.
Now knead the dough of flour by using the milk as per requirement, and make sure you should be able to make small balls from the dough.
Divide the dough into small equal shaped round balls and with your hands only, try to give a shape of puri to each and every ball.
Apply ghee on the puri and stack one on the top of other with three puries in each stack.
Roll and cut each stack into small pieces.
Again, roll the pieces into a round shape and deep fry in ghee or oil until golden brown.
Drain on the paper towel and then dip them in sugar syrup.
Leave for 8-10 minutes, till the puri's absorb the flavor of sugar syrup.
Take them out and serve immediately.