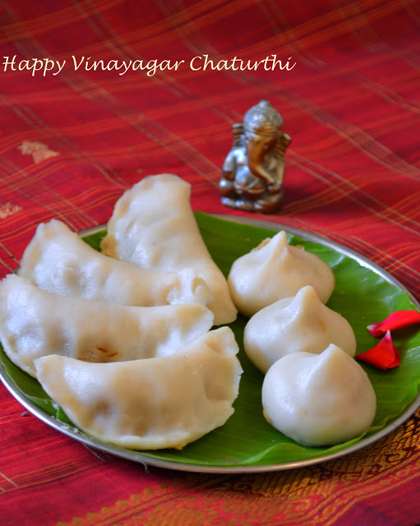 Uppu Kozhukattai (Savoury Modak) is called as "Uppu Kozhukattai/Kolukattai" or "Ulundhu  Kozhukattai" in Tamil where "Uppu" means salt and "Ulundhu" means black gram (lentil). Lentil is steamed and then broken into tiny crumbles, tossed with tempering of mustard seeds and then filled into rice flour pockets.
Kids likes sweet modak, whereas elders like savoury, the filling is a breeze. This, though, takes a little bit more time and little lengthy way of making, than the sweet one. A perfect Vinayagar Chaturthi Prashadam.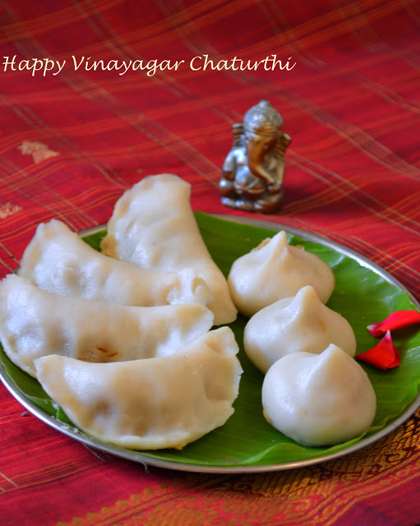 Prep time:
Cook time:
Total time:
Yield: 10 servings
Ingredients:
For making the outer cover/layer you will require:
1-1/2 cups rice flour
1/2 tsp salt
2 cups water
2 tbsp ghee
For making Jaggery Coconut filling (Vella poornam) you will require:
1 cup fresh grated coconut
1/2 cup ground Jaggery
1/2 tsp green cardamom powder
For making Ulundhu/Ullatham Poornam (Traditional Savory lentil filling)
1 cup Whole Black gram (urad dal, ulutham paruppu)
A pinch of asafoetida
1/2 tsp lemon juice
1/2 tsp mustard seeds
2 green chillies, finely chopped
Salt to taste
Few sprigs of curry leaves and cilantro
How to make Uppu Kozhukattai (Savoury Modak) :
Mix all the ingredients of making outer cover of modak and make a smooth dough. Keep aside.
Wash and Soak the lentil for about 30 minutes.
Drain the lentils, when seems plumped up and soft.
Mix the drained lentil, green chillies and salt in a blending jar.
Pulse for few times until becomes coarsely ground.
Do not add water, as we do not require smooth and watery lentils.
Prepare small balls of the dough and place them in a steamer.
Steam for about 20 minutes.
Let it cool for few minutes and make sure they are enough to be able to handle.
Break the balls by crumbling them into coarse meal texture.
Heat the skillet and melt 1 tbsp of ghee.
Add msutard seeds and allow them to pop up.
Now add asafoetida and curry leaves.
When the aroma starts wafting to your nostrils, add the lentil coarse meal to the mix, give it a good toss until it all comes together.
Add cilantro and remove from heat.
At this moment, mix the lemon juice very well.
While still hot, try to make small rounds.
If you are not able to make into rounds then you can place the crumbled filling into the cover quite well too.
The reason for it breaking could be cos the mixture has become cold or its too dry due to over cooking.
Now make this into tear drop shape,just like show in image.
Making a crater in the outer cover, placing the filling in the middle, closing it on the top and making a small beak.
Steam them and serve.
You can make them in semi circle shape as well.
For that,  you just need to place a plastic sheet and grease it well.
Now place one small bowl of the cover on one end.
Bring the other end of the zip lock over the top of the ball (or another greased plastic sheet on top).
Using a flat plate, give it a good press.
It will flatten like a corn tortilla/Makki ki roti.
The thickness of the cover is little more than what we use for the sweet version.
Remove the top plastic and place the filling in the middle
Bring one side of the cover over to the other end – like a semi circle.
Pinch the seams so that it covers the filling on all the sides.
Repeat with the remaining dough.
Remove this dough circle from the sheet. Greasing well makes it easier to remove it.
Place this on the mould.
Drop little of the filling in the center.
Press the mold by bringing the ends together.
Remove the top of the mold and repeat for the rest of the dough
Place them in a steamer and steam for about 20 minutes, till they slightly changes color and becomes slightly translucent.
Cool for few minutes before removing from the steamer.
Delicious Savory Modaks all ready to serve.