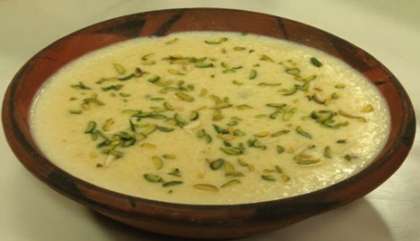 Sweet Potato Kheer is a yummy Goan Festival Recipe, here sweet potatoes are truly blended with wonderful flavors of coconut, sabudhana, jaggery and cardamom.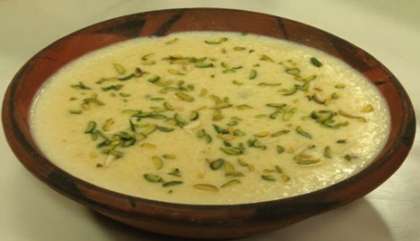 Prep time:
Cook time:
Total time:
Yield: 8 servings
Ingredients:
4 big sweet potatoes
1/2 cup soaked sago (sabudhana)
2 cups scraped coconut
2 cups jaggery (gud)
4 cups thick coconut milk
2 tsp cardamom powder
Salt to taste
4 cups water
How to make Sweet Potato Kheer :
Peel the sweet potatoes and cut into thin slices.
Heat a pan and stir fry sweet potatoes with sago.
Add water and cook till potatoes turns soft.
Now add jaggery and scraped coconut and mix continue.
Add thick coconut milk and stir constantly.
Continue to stir fry for another 5-6 minutes.
Finally add salt and cardamom powder.
Stir for 2 more minutes.
Serve immediately to enjoy a real taste of sweet potato kheer.
Chef Tip:
Sugar can be added, if jaggery is not available.