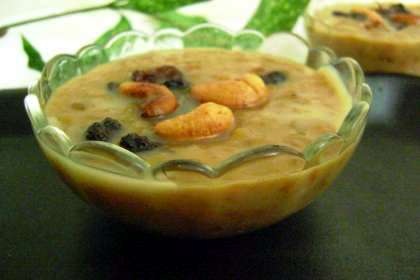 Parippu Payasam is a unique blend of coconut, jaggery, cashew nuts and green gram. It is one of the most famous festival dessert, specially made in various Indian special days.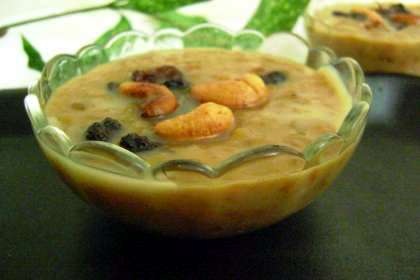 Preparation time: 10 minutes
Cooking time: 25 minutes
Servings: 4
Ingredients:
2 cups Parippu (Green gram dal)
3 cups coconut milk
1 cup jaggery (gud)
4 tbsp ghee
4 tbsp cashew nuts blanched
2 tbsp almonds blanched
1 cup raisins
How to make Parippu Payasam:
Clean the dal and saute in a non-stick saucepan for few minutes till light brown.
Boil the fried dal in good amount of water until dal gets cooked.
Melt the jaggery in water and make a thick solution form.
Now add coconut milk in boiled dal and keep on low flame.
Stir continue till dal thickens.
After few stirring, mix the remaining ingredients.
Also melt the ghee in a saucepan and pour over the ingredients.
Season with blanched cashew buts, almonds and raisins.
Stir well and remove from fire immediately, else becomes thick.
Serve on the spot.