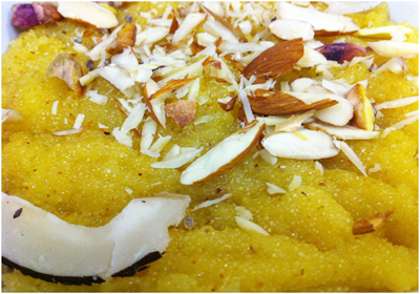 Coconut Custard Halwa is the yummy, sweet Indian dish made with lots of grated coconut, coconut milk, custard and vanilla.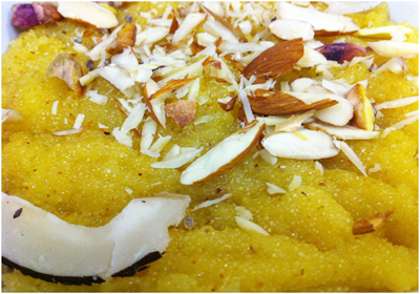 Preparation time: 10 minutes
Cooking time: 30 minutes
Servings: 5-6
Ingredients:
4 cups coconut milk
1 cup grated coconut
1 -1/4 cups sugar
3 tbsp Strawberry Custard Powder
3 tbsp Vanilla Custard Powder
4 tbsp pure ghee
A pinch of yellow food color
For garnishing:
Few almonds chopped
Few pistachio chopped
Few cashew nuts chopped
How to make Coconut Custard Halwa:
In a big bowl, mix the coconut milk and vanilla custard powder very well.
Stir constantly until no lumps are formed.
Heat a deep non-stick pan and melt the ghee in it.
Add the prepared mixture by stirring occasionally.
Mix the grated coconut and remaining ingredients.
Stir continue for 15-20 minutes over moderate heat until it reaches to the thick consistency.
Spread some chopped nuts all over on the halwa.
Delicious halwa is ready to serve.