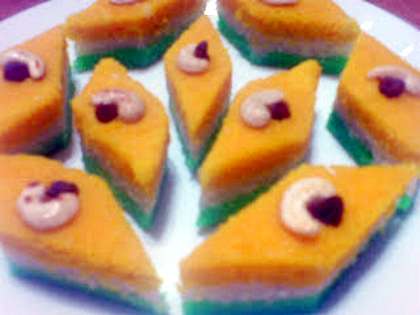 Tiranga Halwa is the special Indian halwa recipe, made with spinach, cucumber and carrot. I have tried to give it a nice and perfect trio-colored combination of our Indian Flag, so that to serve it on 15th August, Independence Day. This halwa is a great dish for the diabetics as well, because I'm going to make it sugar free for them and they can enjoy freedom from sugar. Palak contains good amount of Vitamin A and C, and fiber. Cucumber has high water content, vitamins A, B & C, and carrot is an essential source of vitamin for beautiful skin, cancer prevention, and anti-aging.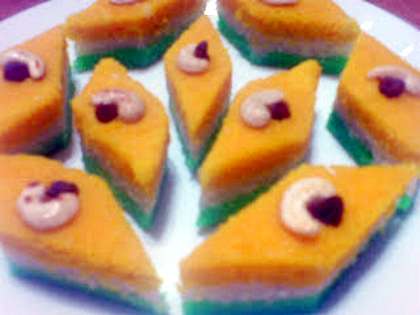 Prep time:
Cook time:
Total time:
Yield: 6 servings
Ingredients :
For making spinach (palak halwa) you will require:
2 cups palak (boiled, stained and pureed)
1 tbsp pure ghee
1 tsp crushed cardammom
4 tsp sugar free sugarite (available in market)
2 cups milk
For making cucumber halwa you will require:
2 medium size cucumbers (peeled and rinsed)
2 tbsp khoya
3 tsp ghee
1/2 tsp cardamom powder
1-1/2 cup milk
4 tbsp sugar free sugarite
For making the layer of carrot halwa you will require:
2 small carrots (peeled and rinsed)
1/2 tsp cardamom powder
1-1/4 cup milk
1 tbsp ghee
4 tbsp sugar free sugarite
Few mixed dry fruits (finely chopped)
How to make Tiranga Halwa :
Let's start making green palak layer halwa first, and for that melt the ghee in a pan and add palak puree.
Saute for few minutes on low flame and then mix milk, sugarite and crushed cardamom.
Keep on stirring till the palak starts leaving the sides of the pan.
At this moment, mix the remaining ingredients and stir continue on low flame.
When it is done, remove and arrange in a plate at the bottom side.
Let's start making cucumber halwa, for that first of all grate the cucumber and squeeze out the whole water.
Melt the ghee in the same pan and add grated cucumber.
Saute for 2-3 minutes on medium flame and then mix the remaining ingredients.
Keep stirring while gradually adding milk in it.
When the milk is dried up, and the cucumber seems done, remove from flame and make a second layer on top of the first layer.
Let's start preparing the third and orange / carrot halwa layer, for that grate the carrots very well and squeeze the water as much as you can.
Heat the ghee in same frying pan and saute carrots for 8-10 minutes on low flame.
Now mix the milk and sugarite.
Keep stirring by adding remaining ingredients.
When the carrots are done, remove from the flame and arrange above the second layer of halwa.
Garnish with chopped dry fruits of your choice and serve.