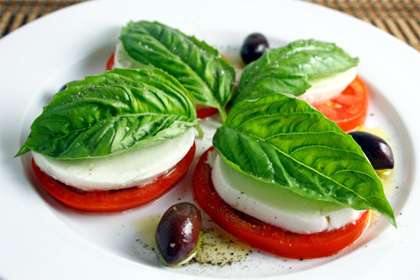 Tricolour Salad is a healthy and colorful combination of tomato, tofu, mozzarella and basil. I have picked up three such colors, that are highlighting our Indian flag. Our National Flag colors are explaining the story of True and Great India. The deep saffron color shows courage and sacrifice. The saffron color is also called the Bhagwa color, this is a symbol of Hindusm.The white color symbolism for peace, unity and truth. The green color shows the culture and fertility. The blue colors for the sky and the ocean is in Chakra. The Chakra has 24 spokes, representing the 24 hours in a day.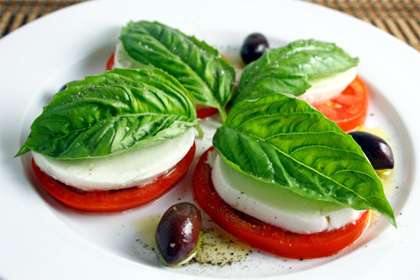 Prep time:
Cook time:
Total time:
Yield: 4 servings
Ingredients:
2 tomatoes, sliced
1 cup tofu, sliced
1 cup fresh mozzarella, sliced
1 cup basil leaves
Salt for seasoning
Black Pepper powder for seasoning
Chaat masala to sprinkle
How to make Tricolour Salad :
Arrange all the salad ingredients on a serving plate.
First put a big slice of tomato, then a thin slice of tofu.
Then put a sliced piece of mozzarella and finally a basil leaf.
Sprinkle salt, pepper powder and chaat masala to taste.
Enjoy yummy salad dish.