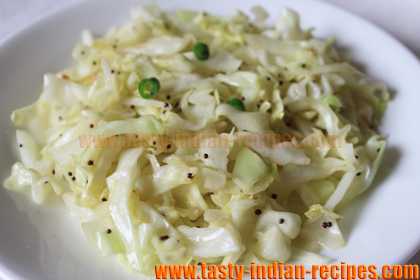 Indian Cabbage Salad is simply stir fried shredded cabbage recipe cooked with the perfect blend of color and taste. It is a delicious accompaniment with any meal. Cabbage is one of the most highly rated leafy vegetables, It has high content of Vitamin A. Cabbage can be eaten raw, steamed, cooked or boiled, in any ways it works best for the natural treatment of infection, ulcers and other disorders of the digestive system. Today we are going to tell you, how to make easy and quick Indian cabbage salad recipe.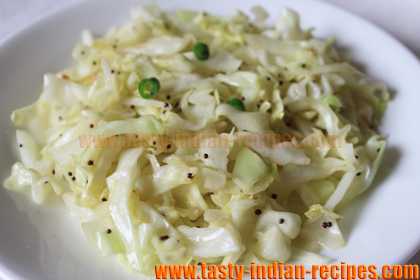 Preparation time: 2 minutes
Cooking time: 5 minutes
Servings: 4
Ingredients:
1 medium size cabbage
1 tsp mustard seeds
1 tsp oil
3-4 green chillies finely chopped
Salt to taste
How to make Indian Cabbage Salad:
Shred the cabbage finely.
Heat up a pan, preferable non stick.
Add mustard seeds and chopped green chillies.
Cook for 2-3 minutes on medium high heat.
Add the shredded cabbage and stir continuously.
Add salt, toss and mix immediately.
Toss until cabbage is cooked properly.
Do not let cabbage to turn into brown color.
Serve hot as it is.
Chef Tips:
You can add olive oil instead of normal vegetable oil.
While serving you may sprinkle some chaat masala.
You can keep this salad fresh for 3-4 hours at room temperature.