Aloo Patta Gobhi Sabzi Recipe is the combination of Boiled Potatoes and Shredded Cabbage. Potato Cabbage Stir Fry is the famous North Indian style stir fry dish, inculcates a huge amount of nutrients and iron. Cabbage or Patta Gobi is considered as one of the most healthiest Vegetable in India but lots of people avoid eating it because of its smell.
Cabbage can be cooked flavorful and very tasty in several ways. Most importantly, it must be fresh and rinsed thoroughly. You can even boil it for removing its smell. If you are cooking this vegetable in a proper way with proper spices, then these simple type of dishes can be amazingly turned out flavorful one.
Aloo Patta Gobhi is made by cooking potatoes and cabbage in tomatoes and mild spices. You will get a very good quality of cabbage in a particular season and at that time, variety of cabbage dishes can be made, such as cabbage paratha, cabbage soup, etc. In most of Indian households, it is the  everyday dish, served with plain Indian roti or rice and dal. I prepare this dish once in a week in cabbage season and serve with rotis and salad. For my family, it is a simple and comfort Indian meal. We all really like it a lot.
Potatoes with Cabbage is a store house of health benefiting nutrients.  It is low in calorie and rich in fiber. Even though it has lots of nutrients, kids generally do not like it. But it's a fabulous combination and one of the must Tiffin Recipe for our kids. Hence today we are going to make it in a simple style with the great taste. Aloo Patta Gobhi is best to serve with Soft Roti / Chapati and salad as a simple Indian meal.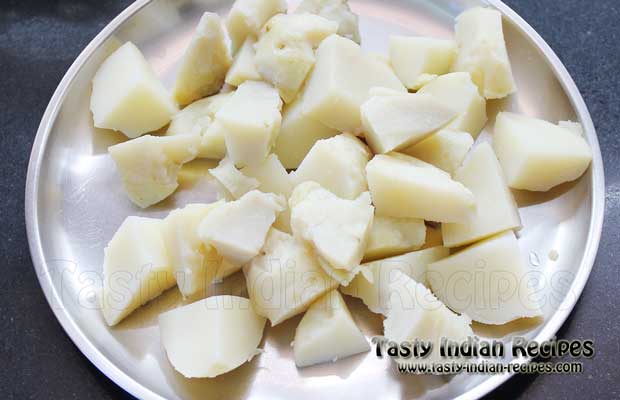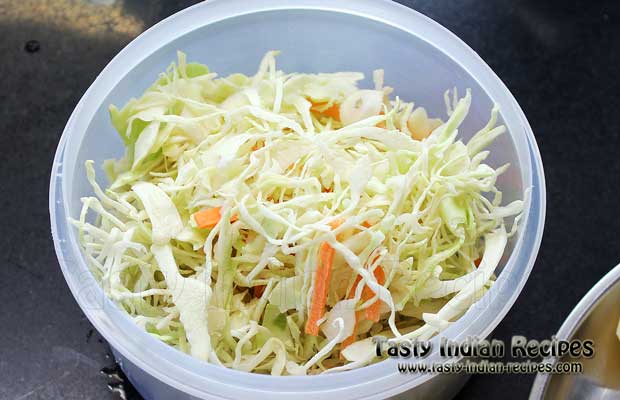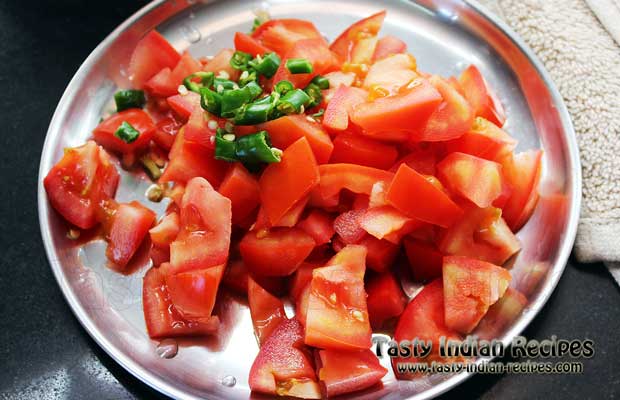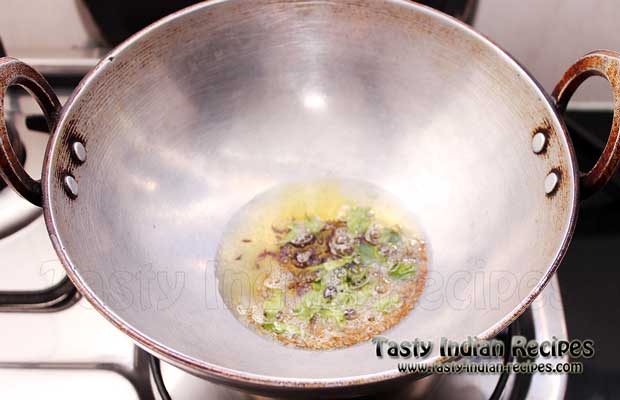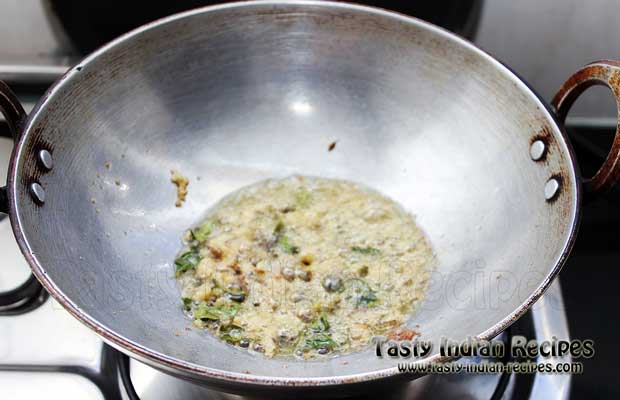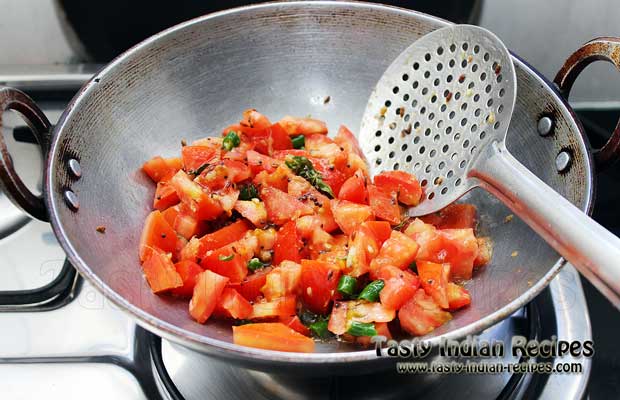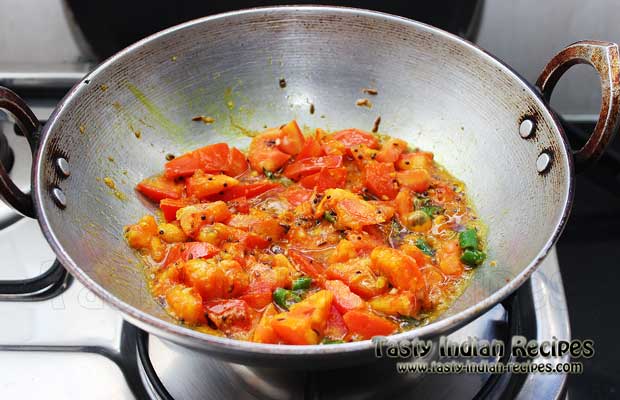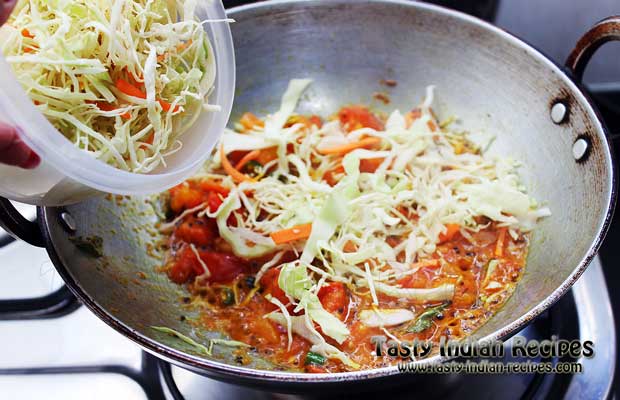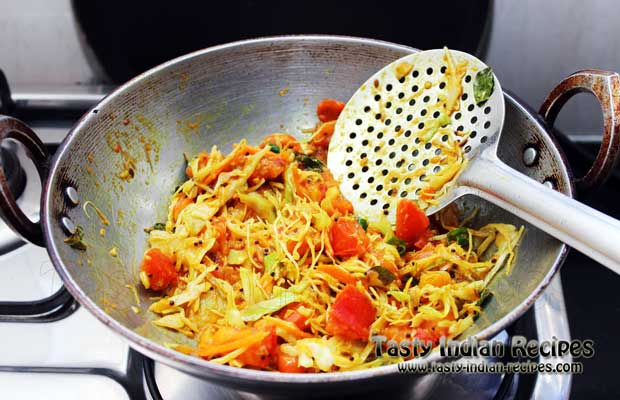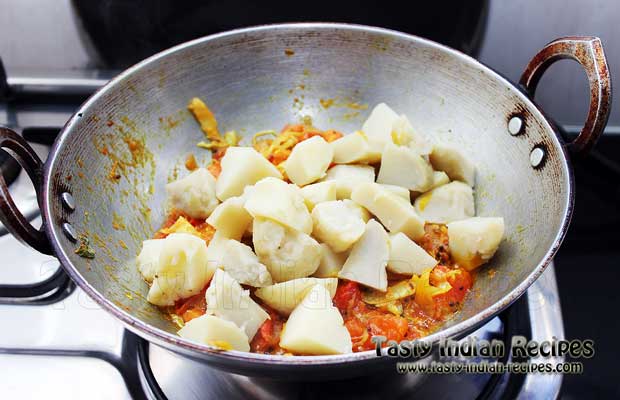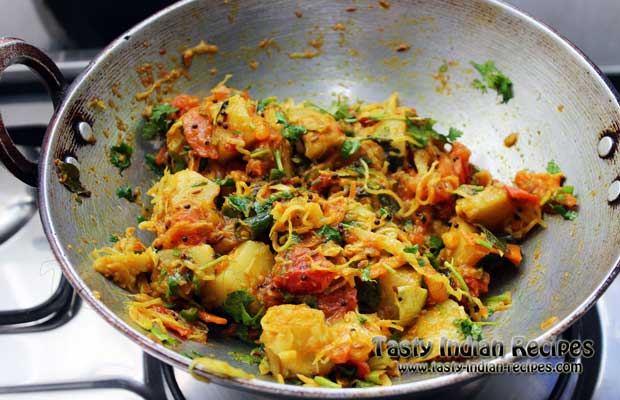 How to make Aloo Patta Gobhi Sabzi Recipe:
Aloo Patta Gobhi Sabzi Recipe
Aloo Patta Gobhi Sabzi Recipe is made by Stir Frying Potatoes and Cabbage in Tomato based dry curry and then flavored with mild Indian spices.
Ingredients
2 cups shredded cabbage (patta gobhi)
2 boiled potatoes
2 green chilies, chopped
1/2 teaspoon mustard seeds
1/2 teaspoon cumin seeds
1/2 teaspoon ginger, chopped
1 teaspoon garlic, chopped
Few curry leaves
3 medium tomatoes, chopped
1/4 teaspoon sugar
1/2 teaspoon red chilli powder
1/2 teaspoon turmeric powder
1/2 teaspoon coriander powder
1/4 teaspoon dry mango powder or lemon juice
Fresh coriander leaves, chopped
1 tablespoon oil
Salt to taste
Instructions
Rinse patta gobhi thoroughly in tap water. Shred it finely and keep aside. Chop the boiled potatoes in cubes and set aside.
Heat oil in a pan and add cumin and mustard seeds. Allow the seeds to splutter and throw in curry leaves.
Saute for a few seconds and then add chopped ginger and garlic. Continue stir fry for few more seconds.
Now add shredded cabbage, 1/2 teaspoon red chili powder, 1/2 teaspoon turmeric powder, 1/2 teaspoon coriander powder, 1/4 teaspoon sugar, 1/4 teaspoon dry mango powder and salt to taste. Place lid and cook over low flame for 6-8 minutes.
Do not add water, cabbage will be tender in its own water. Mix in between so that it does not stick or burn in bottom of the pan. Remove lid once the cabbage is three fourth cooked and now add boiled and cubed potatoes.
Stir fry for few a couple of minutes, so that flavors blend into potatoes as well and the cabbage retains a bit of crunch.
Turn off the heat and garnish with chopped coriander leaves.
Notes
You can use Raw Potatoes instead of Boiled Potatoes. But then you have to cook it for more time.
Tasty Indian Recipes
Chef Tips:
Skip green chillies, if you are cooking it for the kids.
Try to cook this dish from freshly bought cabbage, that will be less bitter and sour in taste.
If your cabbage has a bitter taste, then boil it before cooking.
Lemon juice can be used instead of dry mango powder.

Aloo Patta Gobhi Sabzi
Further Reading:
If you are looking for more Cabbage Recipes, then do check Cabbage Paratha, Cabbage Raita and Cabbage Salad.