Aloo Methi Recipe or Potato With Methi Leaves is the famous Indian main course dish made with Aloo and Methi. In every Indian household, this combination of aloo and methi is cooked in several different styles.
You can serve it with Rice, Roti, Puri, Paratha and Naan. It is always very tasty, if cooked in a proper way and if methi leaves does not taste bitter while eating.
Methi is Fenugreek leaves and In India, because of its huge production on daily basis, you will get fresh methi leaves in every season. Variety of dishes from methi can be made at home. It contains lot of Iron and Vitamins and considered good for the health. You can include this green leafy vegetable in your daily appetite in different ways.
Read here for more benefits of Fenugreek Leaves and an Ayurvedic View of it by the experts.
Recipes of methi which can be easily made at home are Methi Thepla, Methi Mathri, Methi Aloo Paratha, Methi Paneer, Aloo Methi Tikki and many more, it means you can make variety of Main Course Dishes, Snacks, and Breakfast Recipes from methi.
Today, I have cooked aloo and methi in a pressure cooker and it really turned out so well, that  we all enjoyed it with hot Indian chapati. Aloo methi recipe can be made in a pan as well, but because of lack of time, I went with pressure cooker. Let me show you how to make this quick and tasty aloo methi recipe at home.
Studies have found, that people who took 2 ounces (56g) of fenugreek seed each day had significantly (around 14 percent) lower cholesterol levels after 24 weeks, and had lowered their risk of heart attack by more than 25 percent.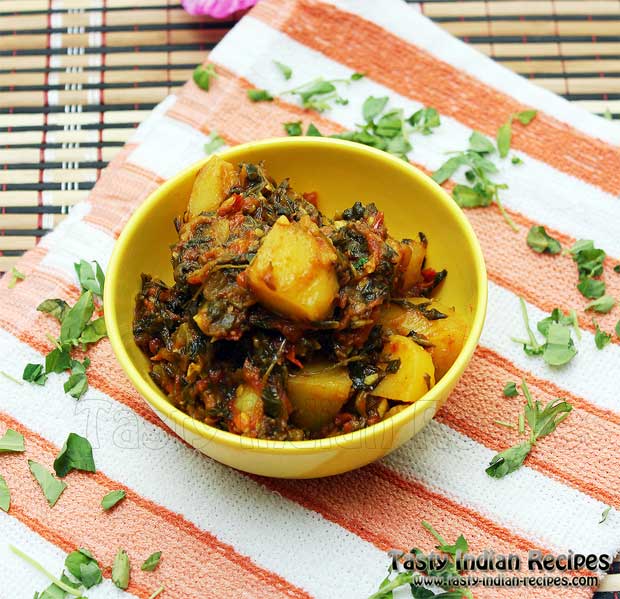 How to make Aloo Methi Recipe:
Aloo Methi Recipe / Potato With Methi Leaves Recipe
Aloo Methi Recipe is a famous Main Course Dish of Punjabi Cuisine. Here Aloo and Methi are cooked in a pressure cooker with Tomatoes and Indian Spices.
Ingredients
1 bunch fresh methi leaves (fenugreek)
2 potatoes, chopped
1 teaspoon ginger, fienly chopped
4-5 cloves garlic, finely chopped
2 green chilies, finely chopped
4 tomatoes, chopped
1/2 teaspoon red chili powder
1/2 teaspoon cumin seed (jeera) powder
1/2 teaspoon turmeric powder
1/2 teaspoon coriander powder
1/2 teaspoon garam masala powder
1/4 teaspoon sugar
1/2 teaspoon dry mango (amchur) powder
1 tablespoon oil
Salt to taste
Instructions
Chop 1 bunch of methi leaves finely and put in water. Also chop 2 potatoes in small cubes and keep in water.
Heat 1 teaspoon oil in a pressure cooker and add finely chopped ginger, garlic and green chilies. Saute on medium flame for few seconds and then add 4 chopped tomatoes.
Now mix in 1/2 teaspoon red chili powder, 1/2 teaspoon turmeric powder, 1/2 teaspoon sugar and salt to taste.
Cover the pressure cooker with a light lid and leave the tomatoes to cook with spices for 2-3 minutes on a low flame. Add chopped methi and potatoes and mix well. Methi gets cooked in its own water, but because of potatoes, you need to add some water in it.
So add about 3/4 cup of water, 1/2 teaspoon coriander powder, 1/2 teaspoon garam masala powder and 1/2 teaspoon dry mango powder. Mix well and cover the pressure cooker with its lid.
Cook for 4 whistles for 3-4 minutes and your aloo methi is ready to serve.
Notes
You can cook aloo methi in a pan as well, it takes about 10-12 more minutes while cooking in pan. You can add finely chopped onion in this and onion should be saute before adding tomatoes. Chopped onion brings more flavor in this dish. Dry amchur powder is added to remove the sourness or bitterness of methi leaves. If your methi leaves are not fresh enough, then please boil it first before cooking any recipe of methi. Boiling helps in removing major portion of bitterness from methi leaves.
Tasty Indian Recipes