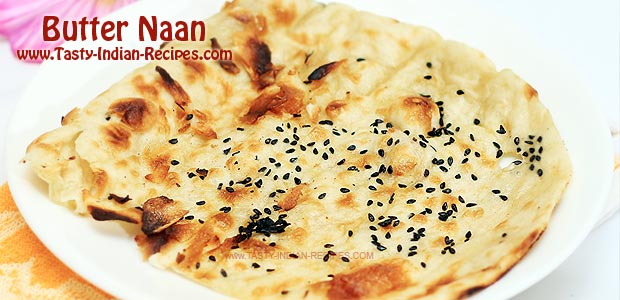 Butter Naan is simply made with all purpose flour (maida), cooked in a unique style and then served with lots of butter on it. It is one of the most extremely delicious dish of Indian breads which is must for an awesome meal. Butter naan easily goes with any veg or non-veg gravy recipe. Sesame seeds really tastes very good, when applied with butter.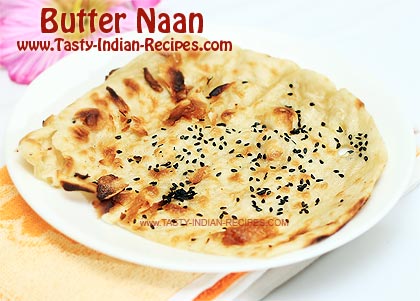 Preparation time: 5 minutes
Cooking time: 15 minutes
Servings: 8
Ingredients required for making Butter Naan Recipe :
400 gm all purpose flour (maida)
1/2 tsp baking soda or yeast
2 cups hung curd
1/2 tsp roasted cumin crushed
1 cup vegetable oil
1 tbsp puree ghee (optional)
Fresh chopped cilantro (optional)
Chaat masala to sprinkle (optional)
1 cup unsalted butter
1/4 tsp black sesame seeds (Til)
Salt to taste
How to make Butter naan Recipe:
Sieve the flour thoroughly with your fingers. Add salt, soda, curd, roasted cumin, fresh cilantro and ghee. Add little little amount of water to make a soft dough. Knead the dough well by pressurizing with your fingers.

Cover the dough with the muslin cloth and keep aside for 30 minutes. Make 5-6 medium sized balls from dough. Set them aside for 5 more minutes.

Take one ball of dough and roll out with the help of rolling pin. Use dry flour for dusting and for making a round shaped roti.

Now apply some oil on the roti and fold it twice, just like shown in images.

Now make a triangle shaped naan and place it on a hot tawa. Keep the flame of tawa medium high and cook the naan on it for a few seconds, from both sides. Make sure, that naan should not get cooked fully on tawa.

With the help of plucker, take out half cooked naan from tawa and directly cook it on the flame from both sides. Till slightly brown spots come out.

Melt butter in a saucepan and add black sesame seeds. Stir fry seeds for a few seconds and spread over cooked naan.

Serve this delicious homemade naan with bhuna chicken.
Enjoy yummy. (just like restaurant style).
Chef Tips:
If you are using yeast then soak it first in the lukewarm water until yeast gets dissolved and then mix in the dough.
Some people like to add spices like green chillies in the naan. You can even try that.
You can also use pressure cooker to make butter naan, for that you need to remove the lid and heat it by keeping upside down.
Further Reading:
There is one more way of making butter naan at home. Take a deep U shaped pan or kadhai, which do not have handles. Turn on the gas and heat the pot upside down. Apply little bit of oil or water only on one side of the naan and place that wet side down. Leave to cook until you observe the brown spots. Naan is ready, you just need to take it out and apply butter as much as you want.