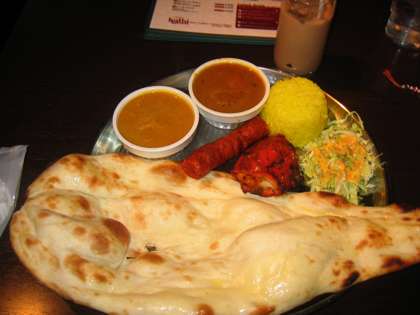 Paneer Naan is made of maida and cornflour, stuffed with the delicious mixture of cottage cheese and then served with the application of butter. Paneer naan is the delicious type of naan from the treasure of Indian roti recipes.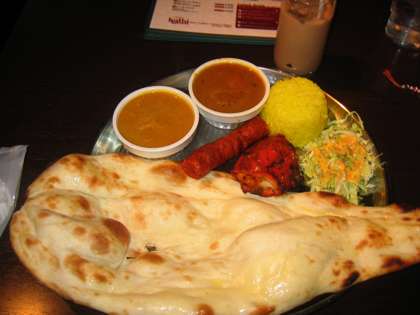 Preparation time: 2o minutes
Cooking time: 10 minutes
Servings: 5
Ingredients:
For stuffing you need:
200 gms paneer grated
2 green chillies thinly chopped
1/2 tsp red chilli powder
1/2 tsp garam masala powder
1/2 tsp dry mango powder
Fresh cilantro chopped
Salt to taste
For making naan you need:
2 cups maida (plain flour)
2 tbsp cornflour
1 tsp yeast
1 cup warm water
2 tsp sugar
1/2 tsp roasted jeera crushed
2 cups curd
2 tbsp ghee
Salt to taste
Oil to deep fry
2 tbsp butter for basting
How to make Paneer Naan:
Mix the yeast and sugar in warm water and keep aside for 10 minutes.
Mix the curd in 2 cups of water and make it little bit watery to knead the dough.
Combine all the ingredients of stuffing and keep aside.
Take a deep bowl, add maida, cornflour, yeast mixture, roasted jeera, salt and ghee.
Mix well and knead the dough with the liquid curd.
Cover the dough with muslin cloth and keep aside for 20 minutes.
After 20 minutes you will observe the dough is raised in the volume.
Divide the dough into small equal balls.
Roll out each into a small round, place a tsp of paneer mixture on the center, fold and seal from all the sides.
Roll out into a thin roti and give a triangular shape.
Heat sufficient oil in a pan and deep fry these naan's one by one on medium high flame.
Fry until golden brown from both the sides.
Take out paneer naan on absorbent paper, apply little bit of butter and serve with any gravy dish or chutney.
Chef Tips:
You can make this naan in any desired shape.
You can bake this naan in oven until become crispy and brown in color.