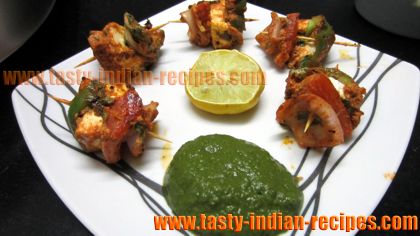 Tandoori Paneer Tikka Kebab is the wonderful kebab dish, which is made with cottage cheese and vegetables of your choice. The Indian cottage cheese and my favorite veggies are just marinated in simple curd mixture and then cooked on a non-stick pan are being turned into rich, flavorful, aromatic and irresistible kebabs. Here I'm going to tell you the best option for vegetarians, specially who love Indian cottage cheese. Learn to make delicious and mouth melting tandoori paneer tikka kebab in just few minutes.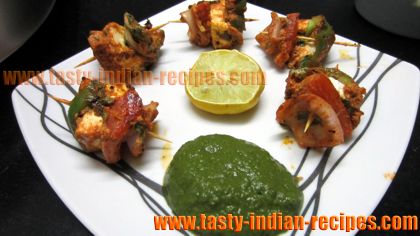 Preparation time: 10 minutes.
Cooking time: 6-8 minutes.
Servings: 4 persons
Ingredients:
300 gm paneer thick and cut into squared
1 capsicum diced in small pieces
1 onion cut into small chunks
2 tomatoes cut into small chunks (remove whole pulp)
2 tbsp thick curd
8 green chillies paste
6 cloves garlic pasted
1 inch ginger paste
1 tsp red chilli powder
4 tsp tandoori masala powder
Fresh chopped cilantro
Vegetable or olive oil
Salt to taste
20-25 tooth picks
How to make Tandoori Paneer Tikka Kebab:
In a bowl combine curd, salt, paste of green chillies-ginger and garlic. Mix well.
Now add salt, red chilli powder, tandoori masala and cilantro. Mix thoroughly.
Keep the toothpicks ready aside. Also keep all veggies ready along with the square pieces of paneer.
Keep a pan on low flame to pre-heat.
Spread little bit of oil all over.
Take a toothpick with your left hand and then with the help of right hand first take a piece of onion, coat with the marination and fix in the toothpick.
Now take a piece of tomato, coat in the marination and fix in the toothpick right after the onion.
In the same way take a piece of paneer, coat and fix in the toothpick.
Finally take a piece of capsicum, coat and fix right after the paneer.
In this way fill all the toothpicks. You may will need at least 20 toothpicks for making the kebab from this quantity of veggies and paneer.
Place these tikka's on heating tawa or pan as much as you can, but make sure you have to keep the distance between kebabs for flipping and turning them just like I have shown in the picture.

Again sprinkle little bit of oil on each kebab.
Leave to cook for about 6-7 minutes on low heat.
In between flip them time to time to avoid the burning.
Also bast them timely with the oil.
Paneer Tikka Kebab is ready to serve with a lemon wedge and green chutney.
Chef Tips:
You can use this same marination to make the kebab in oven or tandoor.
Keep the curd in the tea strainer well in advance to drain out whole water, in this way you can make thick curd, which will be perfect for making tikka's.
You can use fresh or refrigerated paneer to make these cute tikka's.
Do not high the heat at all, the kebab will get burnt immediately.
This is the quickest and easiest way to make delicious paneer tikka's in the pan, I make on daily basis in no time. You must try in this way and adjust the spices as per your taste.
Arrange the veggies as per the method I wrote and keep the paneer and tomato in the center only, its because both are soft and delicate, where as onion and capsicum are hard enough like pillars and pillars should be on the sides to hold the whole tikka.