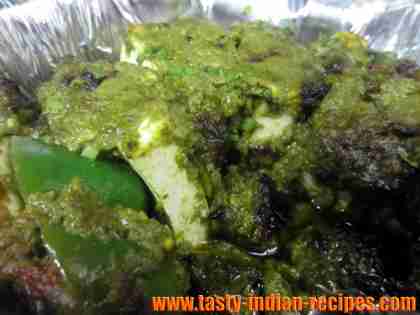 Serve sizzling Paneer ( Indian Cottage Cheese) cooked in flavored green masala or use the leftover green chutney by making delicious Hariyali Paneer Tikka Kebab recipe. It is one of the quick and tasty kebab recipes. The name hariyali is given because of its rich greenish color. Green paneer really brings water in everyone's mouth. You just can not wait to taste it, so lets get started.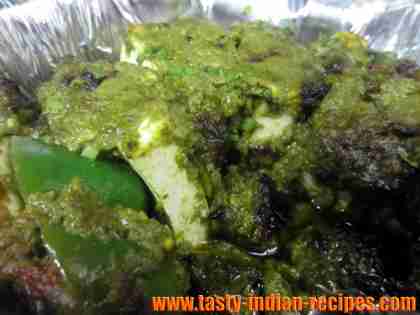 Preparation time: 10 minutes
Cooking time: 10 minutes
Servings : 2-3
Ingredients:
250 gms paneer (in cubes)
1 big capsicum (bell pepper) diced
1 cup curd
1 cup spinach chopped (boiled and squeezed)
1/2 cup mint leaves
1/2 cup cilantro leaves
4 green chillies finely chopped
1 tsp garlic paste
1 tsp ginger paste
1 tsp red chilli powder
1 tsp turmeric powder
1 tsp garam masala powder
1/2 tsp cumin powder
1/4 tsp sugar
1 tsp chaat masala powder
1/2 tsp lime juice
1 tsp butter
1/2 tsp oil
Salt to taste
How to make Hariyali Paneer Tikka Kebab:
Grind the spinach, cilantro leaves, mint leaves, green chillies and make a smooth paste.
In a mixing bowl add curd, ground green paste, ginger-garlic paste, salt, lime juice, red chilli powder, turmeric powder, garam masala powder, cumin powder and sugar, mix well.
Add paneer cubes and diced capsicum, mix well into all the spices.
Keep marinated paneer in the room temperature for half an hour.
Heat up a pan or griddle, add butter and place the marinated paneer and capsicum at a proper distance, roast them on low flame untill turns into light golden brown on the edges.
Reposition them and sprinkle some oil.
Sprinkle some chaat masala and serve hot with salad and tomato sauce.
Chef Tips:
If your paneer is hard then keep it in hot water for 20 minutes, your paneer will get soft and you can make any recipe with the soft paneer.
Do not over cook the paneer as kebab will become hard and tastes sour.