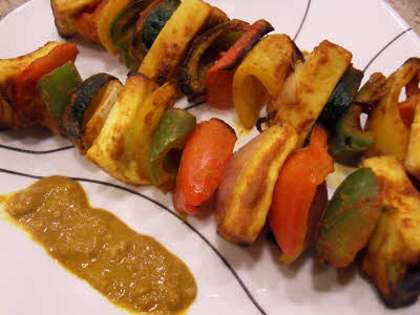 Indian cottage cheese (paneer) is cubed and then marinated in the unique paste of capsicum and yogurt. A great appetizer is made with paneer and capsicum and simply served with lemon wedges and onion rings.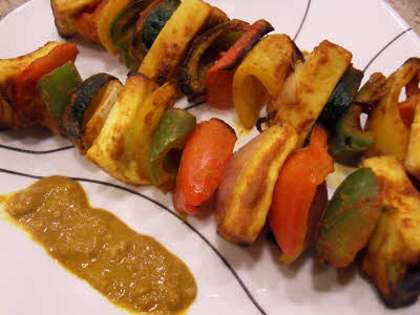 Preparation time: 8-10 minutes
Cooking time: 20-22 minutes
Servings: 2-3
Ingredients:
500 gm Indian cottage cheese (paneer) cubed
1 cup thick curd
150 gm capsicum (shimla mirch) chopped
4 cloves garlic
2 cups fresh cilantro (rinsed and chopped)
1 cup fresh mint leaves
Salt to taste
2 green chillies
1 tsp garam masala powder
1 head of red/ normal cabbage
Few lemon wedges
Few onion rings
2 tbsp oil
How to make Paneer with Capsicum:
Combine the capsicum, green chillies, garlic, curd, salt, coriander-mint leaves and spices.
Mix well and grind into a coarse paste.
Marinate the cubes of paneer in the prepared paste, cover the bowl and keep aside for 1-2 hours.
Preheat the oven at 350 degrees F and apply some oil onto the skewers.
Carefully, place all the marinated pieces of paneer on each skewer and grill in preheated oven for 10-12 minutes.
When the paneer turns soft and done, then remove it from the skewers.
In the serving plate, arrange some cabbage leaves, place the pieces of paneer on the cabbage leaf and serve hot with lemon wedges and onion rings.