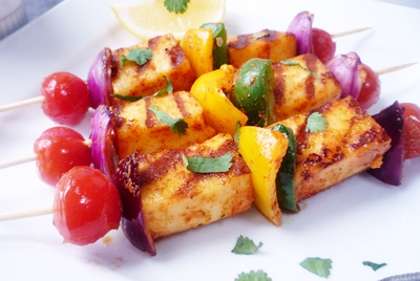 Paneer Moti Kebab is delicately spicy combination of paneer and sweet corns prepared in curd based marination and then cooked in seekh. It is one of the famous, delicious and mouth melting kebabs. It is a healthy and unique starter recipe, which is easy to prepare and perfect to serve at any time.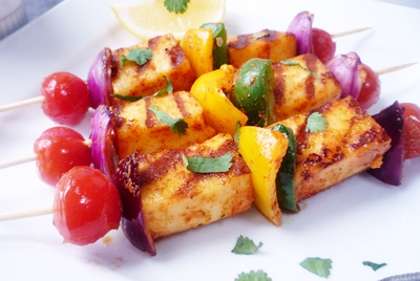 Preparation time: 15 minutes
Cooking time: 25-30 minutes
Servings: 3-4 persons
Ingredients:
250 gms grated paneer
1 cup sweet corns
4 tbsp roasted besan (bengal gram flour)
2 tsp ginger-garlic paste
2 tsp red chilli powder
1 cup thick curd
1/2 tsp cumin powder
1 tsp coriander powder
2 tsp garam masala powder
1 tbsp processed cheese
1 tsp lemon juice
little bit of chat masala
1 tsp butter
1 tsp vegetable oil
Salt to taste
For making dip you need:
1 cup fresh curd
1/2 cup sterilized milk
1 cube of cheese
8-10 dates (khajur) remove the seeds
1/2 tsp black pepper
Salt to taste
How to make Paneer Moti Kebab:
Preheat the oven to 350 degrees F for about 10 minutes.
Combine the curd, salt, ginger-garlic paste, red chilli powder, coriander powder, garam masala powder, lemon juice, cheese, cumin powder and butter.
Mix all the ingredients well, add grated paneer, sweet corns and roasted besan.
Mix thoroughly and make small-small balls from the mixture.
Take the skewers and brush little bit of oil on them.
Place the balls on the greased skewers. Make sure that at least one sweet corn must come in each ball.
Bake the balls in preheated oven for about 15-17 minutes or until they turn into crispy and golden in color.
In the meantime boil the milk in a saucepan and add curd.
Blend the dates in the blender and then mix in the boiling milk.
Grate a cube of cheese, adjust with the salt and pepper powder.
Stir continue for few minutes to make it chunk free.
Leave to cool and then keep in the refrigerator.
This is a dip or chutney which is to be served with the kebab.
Finally check the balls and take out from the oven.
While serving insert wooden toothpick in each ball, sprinkle some chaat masala and serve with dip or chutney.
Chef Tips:
If you do not have oven then you can shallow fry these balls, insert the toothpicks or finger-size skewers and then serve with the dip.
You can keep this dip in the refrigerator for 4-5 days.