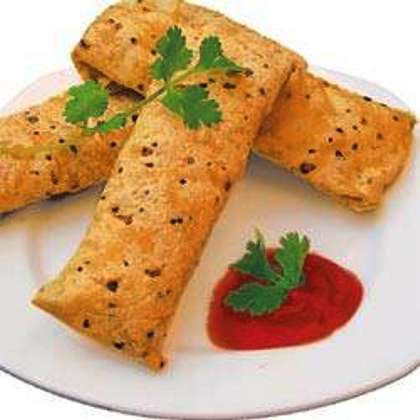 Paneer Papdi is a delicious chat or snack recipe, here paneer cubes are marinated in curd based paste and then coated in roasted papad. This is one of the quick and tasty starter recipes which is perfect to serve with drinks. The aroma of tasty cottage cheese and other flavors really make this recipe awesome.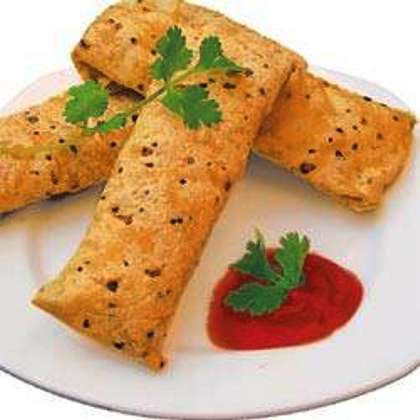 Preparation time: 30 minutes
Cooking time: 15-18 minutes
Servings: 2-3 persons
Ingredients:
300 gms paneer (cut into square or triangle pieces)
1 cup curd
2 tsp ginger-garlic paste
1/2 tsp pepper powder
1/2 tsp red chilli powder
1 tsp garam masala powder
1/2 tsp cumin powder
5-6 roasted papad
2 tbsp corn flour
4 bread crumbs
Oil to deep fry
Chaat masala to sprinkle
Salt to taste
How to make Paneer Papdi:
In a bowl combine the curd, salt, ginger-garlic paste, red chilli powder, cumin powder and garam masala powder. Mix well.
Marinate the pieces of paneer in the mixture and keep aside for 30-40 minutes.
Dilute the cornflour in 4 tbsp of water, mix the pepper powder and make a medium thick paste..
In a bowl crush the roasted papads and mix with the bread crumbs. Keep aside
Now take a piece of paneer, dip in cornflour and then coat with the mixture of papad from all the sides.
In this way dip and coat all the pieces of paneer.
Store them in air tight container and refrigerate for 20-30 minutes.
After that heat a pan and add sufficient oil to deep fry.
Take out the paneer pieces from the refrigerator and deep fry few at a time.
Place the fried paneer papdi pieces on the paper napkin first and then in the serving plate.
Sprinkle some chaat masala and serve hot with tomato sauce or green chutney.
Chef Tips:
Serve paneer papdi with onion rings, it really tastes amazed.
You can use fry papad instead of roasted papad.
Add chillies as per your spice taste.