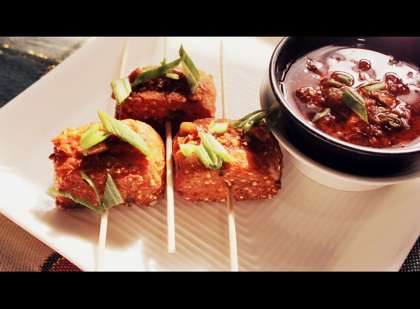 Paneer Makhmali Rolls is a cheesy snack recipe made in the marination of curd and other rich flavorful spices. This recipe really enhance the beauty of any party or get togetherness. Learn to make mouth watering paneer makhmali rolls in just limited time along with the great taste.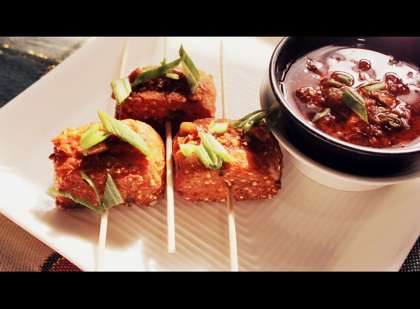 Preparation time: 30 minutes
Cooking time: 35-40 minutes
Servings: 6-7 rolls
Ingredients:
For the marination you need:
250 gms paneer (cut in cubes)
1 cup fresh thick curd
2 tbsp cheese spread
1 tsp green chillies paste
1 tsp garam masala powder
4 cashew nuts
1/2 tsp poppy seeds (khus khus)
4 roasted almonds
Salt to taste
For the stuffing you need:
1/2 onion slices
1/2 cup cabbage sliced or shredded
1/4 carrot shredded
1/4 bell pepper slices
Salt to taste
Chaat masala to taste
1/4 tsp cumin powder
For the rolls, roti's or wraps you need:
1 cup maida
1 tsp cornflour
2 cups milk
Fresh chopped coriander leaves
Salt to taste
How to make Paneer Makhmali Rolls:
In a bowl combine all the ingredients of making rolls, except the milk.
Knead by adding little amount of milk.
Add water if required.
Knead and cover the dough with the muslin cloth. Keep aside for 30 minutes.
In grinding bowl make the powder of cashew nuts, poppy seeds and roasted almonds.
Combine all the ingredients of marination along with the ground powder except the cubes of paneer.
Keep aside for 10-15 minutes.
Take the satay sticks and touch up with the little bit of oil.
Coat the cubes of paneer in the marination from all the sides and arrange in the satay sticks.
Heat a griddle or tawa and place the paneer satays on a medium flame.
Cook until the paneer is light brown in color from all the sides.
Sprinkle little amount of oil or butter if required and keep it aside.
In a bowl mix all the ingredients of stuffing thoroughly and keep aside.
Take a small portion of dough and roll with rolling pin.
Place it on a hot griddle and cook from both the sides like you normally do for making chapati.
While serving place the roti on a clean surface.
Spread little bit of butter, arrange 4-5 pieces of satay paneer.
Spread 1/4 th of the stuffing mixture of cabbage, etc over the paneer.
In the same way make all the wraps or rolls and serve immediately with the green chutney.
Chef Tips:
You can cook paneer satay in oven as well.
For the stuffing you may add your choice of vegetables.