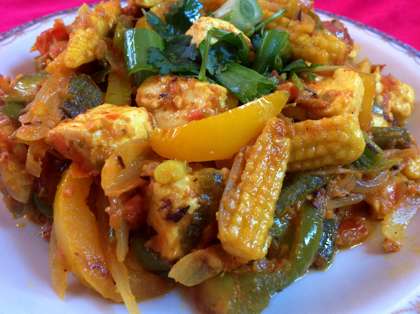 Paneer and Baby Corn Jalfrezi is the delicious preparation of paneer, baby corns and green bell pepper. It is one of the great appetizer which easily goes along with salad and chutney.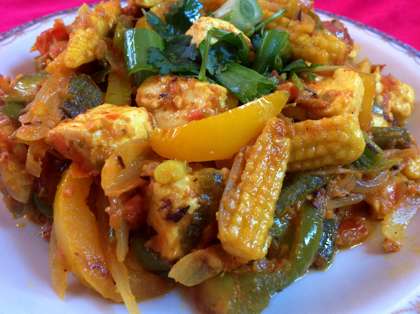 Preparation time: 15 minutes
Cooking time: 20 minutes
Servings: 3 persons
Ingredients:
2 cups cottage cheese (paneer)
1 cup baby corns sliced
1 onion chopped
2 tomatoes pureed
1 green bell pepper sliced
2 green chillies sliced
4-5 cloves garlic minced
2 tbsp curd
1/2 tsp red chilli powder
A pinch of turmeric powder
1 tsp coriander powder
1/2 tsp garam masala powder
1/2 tsp vinegar
Vegetable oil
Fresh coriander leaves chopped
Salt to taste
How to make Paneer and Baby Corn Jalfrezi:
Deep fry the cubes of paneer in hot oil and keep aside.
Heat the oil in a non-stick pan.
Add green chillies and garlic. Saute for few seconds.
Add onion, tomato puree and bell pepper.
Cook for 2 minutes.
Add baby corns, salt, red chilli powder, turmeric powder and curd.
Cook for 5 minutes until baby corn are cooked well.
Add fried paneer, vinegar, coriander powder and garam masala powder.
Toss very gently and garnish with fresh coriander leaves.
Serve hot with salad and coriander chutney.
Chef Tips:
You may add little amount of water before adding paneer, if masala is too dry.
You can add paneer pieces without deep frying.