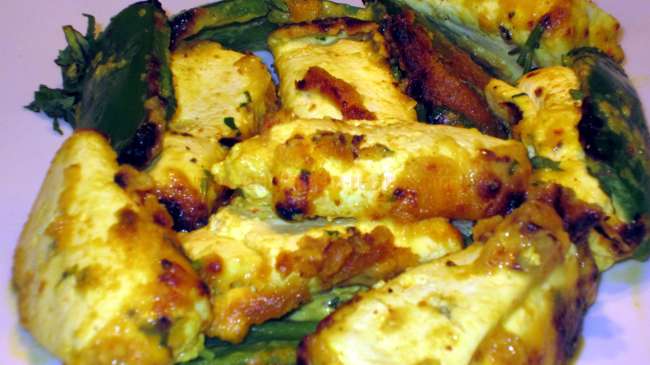 Paneer Chilli Milli Kebab is cooked by marinating Indian cottage cheese (paneer) and lots of other tasty vegetables like capsicum, onions and tomatoes into the rich mixture of curd, cornflour and spices. It is one of the delicious appetizer and famous kebabs, which is served in almost every Indian restaurant. Let us teach you how to make this wonderful kebab.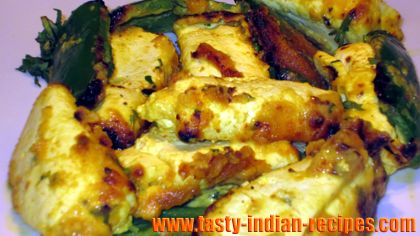 Preparation time: 10 minutes
Cooking time: 20-25 minutes
Servings: 2-3
Ingredients:
250 gms paneer cut into big chunks
1 big capsicum (diced)
1 big tomato (diced) remove pulp
1 big onion (diced)
4 green chillies paste
2 tsp garlic paste
1 cup fresh curd
1/2 cup cornflour
1 tsp white pepper powder
1 tsp crushed black pepper
2 tsp tandoori masala powder
1 tsp garam masala powder
Oil to cook
Few cilantro leaves chopped
1 tsp chaat masala
1/2 lime juice
Salt to taste
How to make Paneer Chilli Milli Kebab:

In a mixing bowl add cornflour, curd, salt, white pepper powder, crushed black pepper, green chillies, garlic paste, tandoori masala powder, garam masala powder, cilantro leaves and 1 tsp of oil. Mix thoroughly.
Add paneer, capsicum, tomato and onion. Coat all the veggies well in the marination. Cover the bowl and keep aside at least for 2 hours, preferably in refrigerator.
After 2 hours preheat the oven for 5 minutes.
Take the skewers, soak in warm water for 2 minutes.
Now spread some oil on the skewers and arrange the marinated vegetables in the sequence of Capsicum-paneer-tomato-onion, fill all the skewers in the same way.
Cook in oven at 350 degrees for 15 minutes.
Brush with a little cooking oil. Grill till the paneer turns into light golden color and veggies become soft.
Remove onto a plate, sprinkle some chaat masala and squeeze some lemon juice while serving.
Chef Tips:
Do not overcook paneer else it will become rubbery.
If you do not have oven then you can make this recipe in a pan by adding butter.
You may serve this kebab with salad of your choice.