Veg Chilli Milli Kebab is the famous Indian Appetizer, made with combination of several colorful vegetables and beautifully wrapped with bread crumbs. Chilli Milli is really a suitable name for this recipe, because you can see an awesome variety of vegetables, that are used for making this.
I tasted Veg Chilli Milli Kebab in our nearby restaurant and then I tried to make it. It wasn't perfect for few times and I was really hopeless. But then one of my friend told be to make them in Hara Bhara Kabab Style and grill it in oven. So I made them again and they really turned out very well. Thanks Jiya.
I used good amount of spinach and green peas for giving a wonderful green color to my kebabs. Well, you can use your favorite vegetables for making it but please don't forget to add capsicum and bread crumbs in it. Bread crumbs helps in binding these kababs and then it will be easy for you to fix them onto the skewers.
This Kebab dish is a special recipe for making on holidays. You can even serve them as a Starter or an Appetizer with Mocktails. This Kebab dish is also considered as a Snack dish and lot of people enjoy it as an evening snack.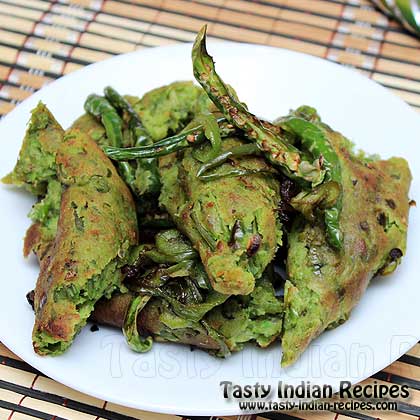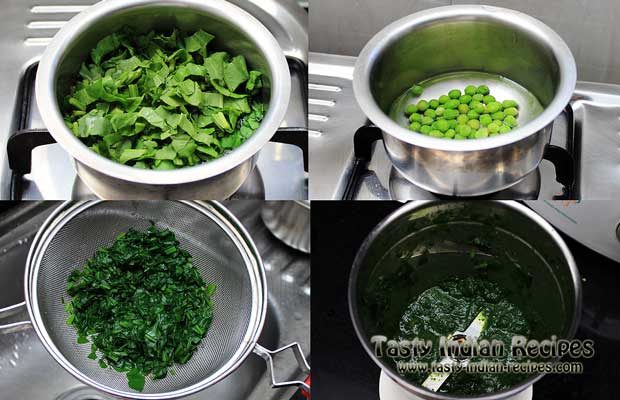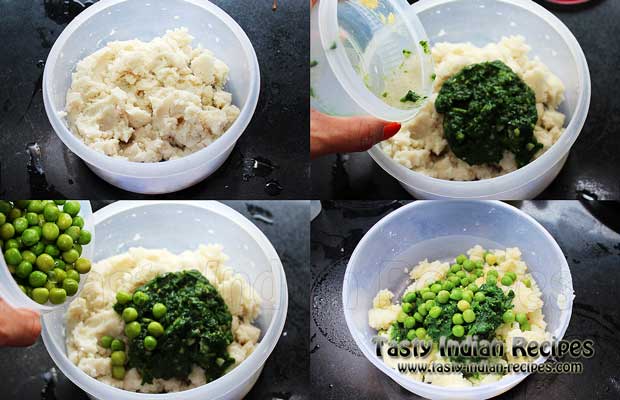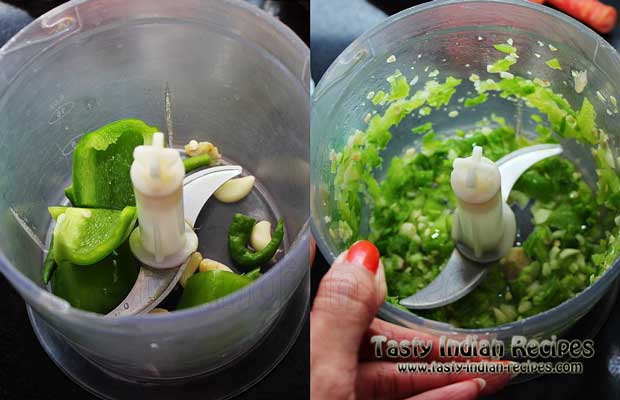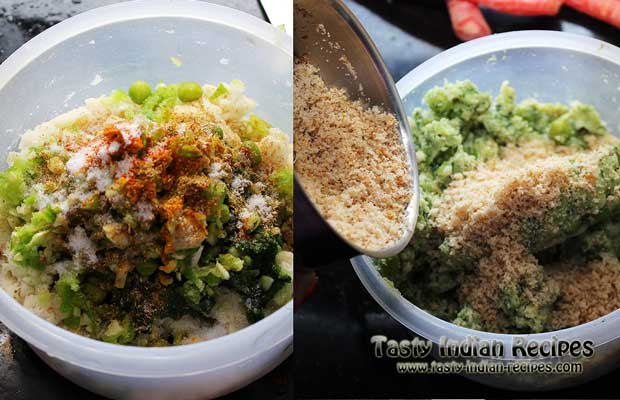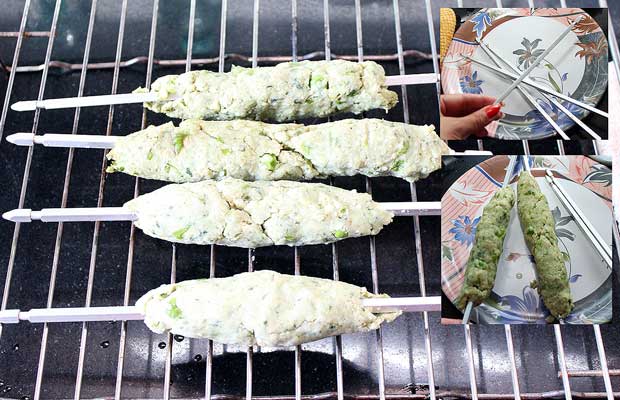 How to make Veg Chilli Milli Kebab Recipe:
Veg Chilli Milli Kebab Recipe
Veg Chilli Milli Kebab Recipe is the delicious Indian Kabab made with Boiled Potatoes, Spinach, Green Peas and Capsicum. It is considered as one of the healthy Vegetarian Kabab dish, because it is grilled in oven instead of deep or shallow frying in oil.
Ingredients
4 boiled potatoes
1/2 cup green peas
1 cup spinach, chopped
2 tablespoon breadcrumbs
1 teaspoon ginger
4 green chillies
1 teaspoon garlic
1/2 capsicum, coarsely chopped
1/2 teaspoon black pepper powder
1/2 teaspoon red chilli powder
1/2 teaspoon turmeric powder
1/4 teaspoon coriander powder
1/2 teaspoon garam masala powder
1/4 teaspoon dried mango powder
1 teaspoon oil
Salt to taste
Few fried green chilies for garnishing
Instructions
Mash the boiled potatoes in a bowl. Boil the spinach, drain and blend into a fine puree. Also boil green peas and keep aside.
Combine 1 teaspoon ginger, 1 teaspoon garlic, 4 green chilies and 1/2 coarsely chopped capsicum in a chopper and chop them very finely. You can chop them with knife as well.
Now mix the boiled potatoes, spinach puree, boiled green, chopped mixture of ginger-garlic, 2 tablespoon breadcrumbs, 1/2 teaspoon red chili powder, 1/2 teaspoon turmeric powder, 1/2 teaspoon black pepper powder, 1/2 teaspoon coriander powder, 1/2 teaspoon garam masala powder, 1/4 teaspoon dried mango powder and salt to taste. mix very well.
Rinse the skewers in running water, apply some oil over them and arrange the kababs onto the skewers, just like shown in images.
Preheat the oven at 350 degrees F and place the skewers in it. Grill the kababs for about 20 minutes till they turn little golden brown and crispy.
Take out the kababs onto the skewers and garnish with some fried green chilies.
Notes
Veg Chilli Milli Kebabs should be served immediately else becomes soggy. If you want you can fry these kababs, but then it will be high in calories.
Tasty Indian Recipes
Chef Tips:
They are yummy to serve with Green Chutney.
You can make deep fry these kababs in pan or shallow fry them on a hot griddle.
Further Reading:
If you are looking for more Kebab Recipes, then do check Vegetable Kebabs and Tandoori Paneer Tikka Kebab.