Reshmi Kabab Recipe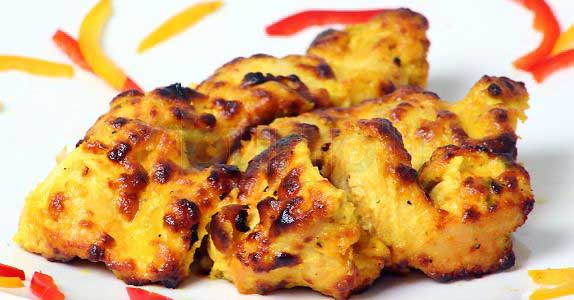 Reshmi Kabab is a mouth melting chicken kabab recipe, here boneless chicken chunks are marinated in unique preparation of yogurt, cream, almonds and spices to get the delicious and juicy kabab dish.
Preparation time: 10 minutes
Cooking time: 15 minutes
Servings: 4
Ingredients:
500 gms chicken (boneless and skinless)
1 inch ginger
4-5 cloves garlic
1 tsp poppy seeds
1/2 tsp white sesame seeds
4 green chillies
1 medium size onion
2 tbsp roasted almonds
1 tbsp fresh cream
1 tbsp yogurt
1 tbsp fresh lemon juice
2 tbsp vegetable oil
1 tbsp fresh cilantro chopped
Salt to taste
How to make Reshmi Kabab:
Clean the chicken in normal running water and cut into medium size chunks. Keep aside.
Keep the almonds in warm water for about 20 minutes.
Remove out the skin.
Combine the skinless almonds, ginger, garlic, seeds, chillies and onion.
Grind in the food processor and make a smooth paste.
Now combine this paste, yogurt, cilantro, fresh cream, salt, lemon juice and 1 tsp of oil.
Mix well and add the chunks of chicken and coat well.
Cover and leave to marinate at least for whole day.
Preheat the oven to 450F degrees for 5 minutes.
Keep the wooden skewers into warm water for 5 minutes.
Thread the chicken pieces into skewers and place in the oven.
Lightly brush with the oil.
Grill for about 13-15 minutes until chicken tenders and becomes juicy.
When the chicken is done, then remove out from the skewers.
Serve hot with coriander chutney and salad.
Chef Tips:
It is one of the most delicious kabab can be served with tandoori roti or naan.
If you wish you can brush little bit of butter at the time of serving.
Also you can sprinkle some lemon juice at the time of serving.