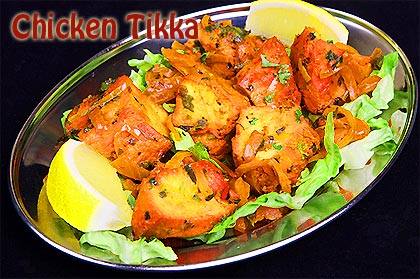 Chicken tikka is India's most popular chicken dish. The word Tikka means bits, pieces or chunks. Boneless pieces of chicken are marinated in yogurt and spices and grilled on skewers in tandoor (oven).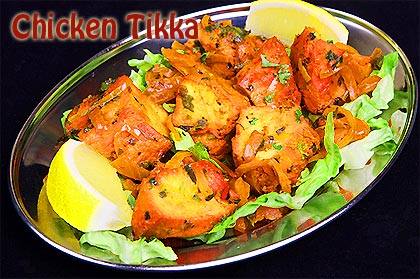 Prep time:
Cook time:
Total time:
Servings: 6
Ingredients :
500 gm boneless chicken breast (bits or pieces cut in 1/2 inch thick)
1 capsicum, diced
1 onion, diced
1 tomato, diced
Oil for basting the chicken pieces
For marination of Chicken Tikka you will require:
1-1/2 cups thick yogurt (curd /dahi)
1 tsp ginger paste
1 tsp garlic paste
3 green chillies, finely chopped
1/2 tsp lemon juice
1 tsp Everest Tandoori Chicken masala (available in all grocery stores)
1 tsp cooking oil
1 tsp fresh coriander leaves, finely chopped
A pinch of red-orange food color
1/2 tsp melted butter
Salt to taste
How to make Chicken Tikka :
Place the yogurt in small tea sieve for few hours in refrigerator, to drain the whole water and to thicken it.
Clean the chicken pieces and place in a big bowl.
Add marinating ingredients and diced vegetables in the bowl of chicken and mix very well.
Cover the bowl and keep the marinated chicken in refrigerator for few hours, until sets.
Preheat the oven at 300 degrees F and apply some oil on the skewers.
Now String the chicken pieces, onion, tomato and capsicum pieces alternately onto skewers.
Place the skewers on the grill rack of oven with a tray underneath to catch drippings.
You can keep a foil paper on the tray to avoid the mess.
Roast for about 15 minutes, till the chicken and veggies are tender and browned on all sides.
Remove the chicken and veggies from the skewers onto a serving plate.
Sprinkle some lemon juice or chaat masala all over.
Serve immediately with coriander chutney and kachumber salad.
Another way to cook Chicken Tikka at home is :
If you do not have oven in your kitchen, then you can cook it on a non-stick pan as well.
The procedure is , Heat a non stick pan and drizzle a little oil.
Either use the skewers to thread the chicken or use toothpicks.
Place the skewers on the pan.
Turn the skewers so that the chicken gets cooked evenly all around.
Cook for about 15-20 minutes, till the chicken is done.
Serve hot.
Chef Tips:
This Chicken Tikka can be used for making Chicken Tikka Masala ( A tasty gravy dish).
It is very important to thicken the curd for making perfect tikka's, for that you can place the curd in a muslin cloth tightly in the refrigerator for few hours or for overnight.