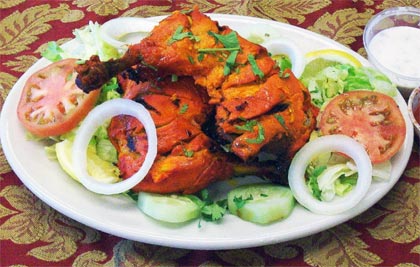 Tandoori Chicken Oven is the blend of whole chicken, yogurt and tandoori masala powder. It is the most famous chicken dish served almost in every restaurant. The special thing about this dish is that it can be easily made at home along with the great taste. You just need to use the branded aromatic tandoori masala powder.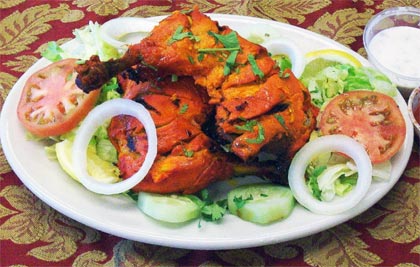 Preparation time: 15 minutes
Cooking time: 30 minutes
Servings: 4
Ingredients:
500 gms chicken
2 tbsp yogurt
2 tbsp ginger-garlic paste
4 tbsp Melam tandoori masala powder
1 tsp chaat masala powder
Few lemon wedges
Few onion rings
Few capsicum rings
1/2 tsp lemon juice
Salt to taste
1/2 cup vegetable oil
How to make Tandoori Chicken Oven:
Wash and clean the chicken thoroughly and cut into long diagonal pieces. Keep aside.
Combine yogurt, salt, ginger-garlic paste, tandoori masala and 2 tbsp vegetable oil.
Whisk the marinade to make a smooth paste.
Smear the paste evenly on the chicken pieces, make sure that the chicken pieces are coated very well with the paste.
Cover the bowl and refrigerate the chicken for about 12-15 hours.
Preheat the oven to 180C for 5 minutes and grease the baking tray with the oil or cooking spray.
Place the chicken in the oven and bake for about 15 minutes until turns into golden brown in color.
Turn the chicken pieces and bake for another 10 minutes.
Keep checking and brushing the chicken with little bit of oil.
When the chicken is done from both the sides, take out from the oven and lay the pieces in a plate.
Sprinkle some chaat masala and lemon juice all over.
Garnish with onion rings, capsicum rings and lemon wedges.
Serve hot.
Chef Tips:
Serve tandoori chicken immediately, the delay in serving will ruin its taste and crispiness.
You can use grill to make the delicious tandoori chicken recipe.
Always use branded tandoori masala powder, as it is the only ingredient to enhance the flavor of chicken.