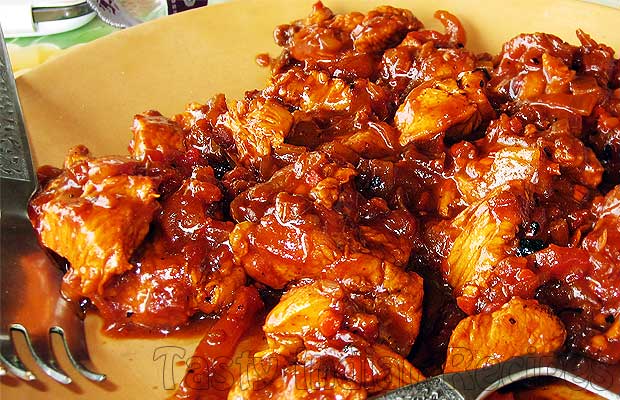 Chicken Vindaloo is a divine chicken recipe made in a unique style and flavored with the paste of onion, ginger-garlic and mustard seeds.
Preparation time: 10 minutes
Cooking time: 25 minutes
Servings: 4
Ingredients:
500 gms chicken (boneless breast)
1 tbsp ground mustard
1 inch ginger piece
1 tbsp turmeric
1 big onion pieces
1 tsp cumin powder
1 tsp lemon juice
1/2 tsp black pepper powder
4 cloves garlic
1 tbsp garam masala powder
1 cup tomato puree
1/2 cup coconut milk
Few mint leaves
1 tsp olive oil
Salt to taste
How to make Chicken Vindaloo:
Cut the chicken breast into medium size pieces, apply olive oil and keep aside.
Meanwhile combine onion, ginger, garlic, mint leaves, mustard and green chillies.
Blend to make a smooth paste.
Now mix the chicken pieces in the paste and stir with the spices.
Cover the marinade of chicken and keep overnight to settle down.
Heat a non-stick pan and add the marinated chicken.
Heat another sauce pan and cook tomato puree with coconut milk until boils.
Stir and combine with chicken. Cover and leave to cook for about 20 minutes on a low heat.
Now after cooking, chicken will little dried. But that's okay, we need this much consistency to serve our chicken vindaloo.
Chef Tips:
You may use vinegar instead of lemon juice.
This is one of the most delicious dry chicken dish, which is best to serve as a snack or complimentary dish in the mocktail party.
If you like adding veggies, then go ahead.