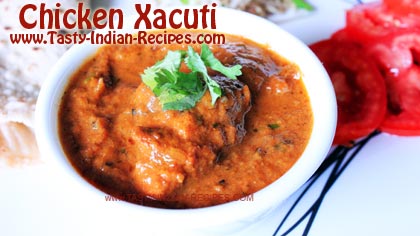 Chicken Xacuti is the aromatic Goan dish cooked with the medley of coconut and spices. This is the wonderful preparation which consists the flavors of various seeds, onion paste and tamarind. Chicken Xacuti is one of the most popular traditional Goan specialty made in rich style gravy.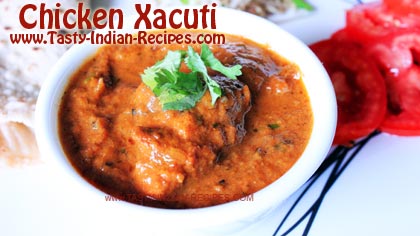 Preparation Time: 10 minutes
Cooking Time: 30 minutes
Servings: 6
Ingredients:
400 gms chicken (cut into pieces)
3-4 cloves garlic
1 inch ginger
2 green chillies
2 cups dry coconut chopped
1/2 tsp fennel seeds
1/2 ts cumin seeds
1/2 tsp sesame seeds
1/2 tsp coriander seeds
2 whole dried red chillies
1/2 tsp red chilli powder
1/2 tsp pepper powder
1/2 tsp turmeric powder
4 tbsp onion paste
1 tsp tamarind water
2 tbsp vegetable oil
Salt to taste
How to make Chicken Xacuti:
Combine the garlic, ginger, green chillies, dry coconut, coriander seeds, fennel seeds, cumin seeds, sesame seeds and dried red chillies.
Roast them in the oven for 4 minutes on high.
Allow to cool and then shift into the blending bowl.
Add little amount of water and blend to make a smooth paste of the roasted mixture.
Heat the oil in a pan, add onion paste and the grounded masala paste.
Saute for few seconds until aroma and flavors come out.
Add chicken, salt, turmeric powder, red chilli powder and pepper powder.
Mix well and saute on medium high heat for 4-5 minutes.
In between stir the chicken with 2 cups of water.
When the chicken comes to a boil then add tamarind water and mix well.
Now cover the pan and cook the chicken on low heat until it tenders.
It will take at least 12-15 minutes.
Serve hot with roti or Goan special rice.
Chef Tips:
You can add chopped tomatoes for making the more flavorful and colorful chicken.
For making onion paste, you just need to chop the onions into chunks, grind to make a smooth paste, add water if requires.
You can roast the mixture of seeds and coconut in the non-stick pan as well.