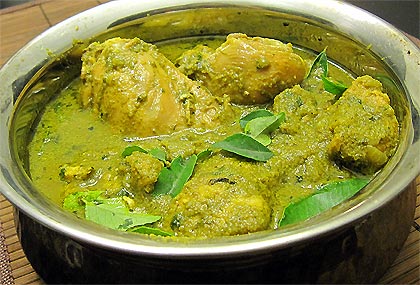 Yellow Chicken Curry is the delicious preparation of boneless chicken, flavored and spiced up with coconut milk, sesame seeds, dry nuts and basil leaves. The unique ingredients of curry paste is enough to spread its aroma all over.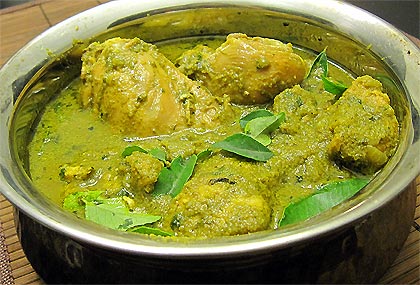 Preparation time: 10 minutes
Cooking time: 25 minutes
Servings: 4
Ingredients:
200 gms chicken (boneless and skinless)
2 green chillies thinly chopped
1 cup coconut milk
1/2 tbsp sesame seeds paste
2 tbsp cashew and almonds paste
1 onion (cut into chunks)
4-5 basil leaves
1 tsp turmeric powder
1/2 tsp red chilli powder
Few saffron strands
1 tbsp rose-water
2 tbsp oil
1 tbsp ginger julienne
Salt to taste
How to make Yellow Chicken Curry:
Chop the chicken into medium size pieces, wrap in damp warm cloth and keep aside for 30 minutes.
Blend the onion to make a smooth paste.
Heat the oil in a non-stick pan and add chicken.
add onion paste, sesame paste, green chillies, salt and spices.
Mix well and cover the pan.
Leave for few minutes until chicken becomes little bit soft.
Now add coconut milk and 2 cups water.
Mix well and heat until starts boiling.
Finally when the chicken is fully done, then add basil leaves, saffron and rose-water.
Mix well, stir for 2 minutes and garnish with ginger julienne.
Serve hot with rice, tandoori roti or butter naan.
Chef Tips:
For making yellow chicken curry, you can add vegetables like carrot and fruits like pineapple to make it more flavorful.
I have used boneless chicken breast, whereas whole chicken can also be used.