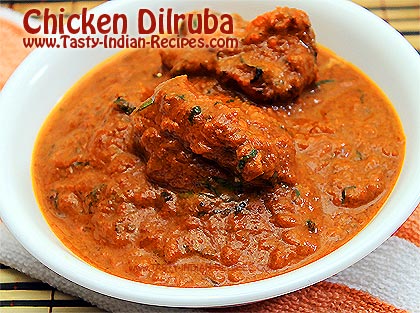 Chicken Dilruba is really a heart catching dish, here chicken is cooked in ground cayenne, fresh cream, onions and spices. The delicious blend of all the flavorful ingredients turns the chicken into awesome main course dish, which is perfect to serve with roti or naan.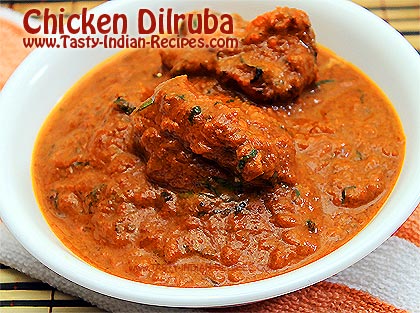 Preparation time: 10 minutes
Cooking time: 30 minutes
Servings: 4
Ingredients:
500 gms chicken (cut into medium chunks)
2 tbsp yogurt
2 tsp fresh cream
A pinch of ground cayenne
A pinch of saffron soaked in 3 tbsp milk
1 inch ginger
4-5 garlic pods
3-4 green chillies chopped
3 onions
2 cups milk
1/2 tsp red chilli powder
1/2 tsp turmeric powder
2 tsp garam masala powder
Salt to taste
1 tbsp ghee
For garnishing:
1/4 cup mixed nuts chopped
Few coriander leaves chopped
Few mint leaves chopped
1/4 tsp roasted poppy seeds
How to make Chicken Dilruba:
Combine onion, ginger, garlic and green chillies and make a smooth paste.
Melt the ghee in the pan and add paste of onion.
Stir for few seconds until browned.
Add yogurt, cream and pieces of chicken.
Mix well and add salt and spices.
Cook on medium high flame until chicken tenders and turns into golden brown color.
Stir with the saffron and milk.
When the chicken is fully done and the sauce becomes thick, then garnish the dish with garnishing ingredients.
Serve hot with roti, rice or naan.
Chef Tips:
The consistency of gravy in chicken dilruba must be medium thick and chicken must be browned well.
You can use little bit of red-orange food color for a nice color of gravy.
Prefer chopped cashew nuts and almonds to garnish.