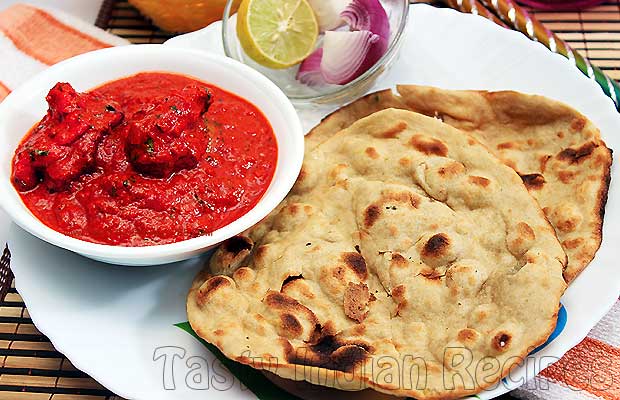 Chicken Curry is the delicious home made style chicken recipe cooked in rich Indian curry and then tempered with butter and whole garam masala. This dish is best to serve with roti or rice. You can give the touch of your favorite spices but do not forget to add whole garam masala.
Preparation time: 10 minutes
Cooking time: 25 minutes
Servings: 4
Ingredients:
200 gms chicken diced
4 small onions thinly chopped
4 tomatoes thinly chopped
2 tbsp yogurt (curd, dahi)
1 tbsp cornstarch
1 cup milk
2 tbsp ginger-garlic paste
4 green chillies chopped
1/2 tsp red chilli powder
1/4 tsp turmeric powder
1 tsp coriander powder
1 tbsp curry powder
2 tsp ghee or vegetable oil
1/2 tsp fresh lemon juice
Fresh coriander leaves chopped
Few ginger Julienne
2 pinches of red food color (optional)
1/2 tsp butter
Salt to taste
Whole garam masala:
1/2 tsp cumin seeds
1/2 tsp mustard seeds
1/4 tsp coriander seeds
1 bay leaf
2 cloves
2 peppercorns
1/2 big elaichi
1 small elaichi
1/2 inch cinnamon
1 mace
How to make Indian Chicken Curry:
Wash the pieces of chicken properly in water.
Combine yogurt, ginger-garlic paste, salt, red chilli powder and lemon juice.
Mix well. Add the pieces of chicken in this marination.
Mix and keep aside for 20 minutes.
Heat the ghee in a pan. Mix the cornstarch.
Stir continuously to get the lumps free curry.
Add green chillies. Saute for few seconds.
Add onions and cook until onions turn into light golden brown color.
Add tomatoes. Mix well.
Add salt and little bit of red chilli powder.
Mix well and leave to cook for 3-4 minutes.
Now blend this puree little bit with the help of hand blender.
Add milk and marinated chicken.
Mix well. Cover the pan and leave to cook for 10 minutes on low heat.
Melt the butter in a sauce pan and add whole garam masala.
Saute the whole garam masala by stirring with the spoon for 2 minutes and mix in chicken.
Finally add curry powder and food color. Stir for a few seconds and garnish with coriander leaves and ginger Julienne.
Serve the delicious chicken curry with tandoori roti or steamed rice.
Chef Tips:
You can add water for making more curry with the chicken, where as I have cooked the chicken in medium thick curry.
Do not add garam masala powder, instead add whole garam masala, which will bring the aroma and ultimate flavor in the dish.
You may garnish this dish with the dry fruits.