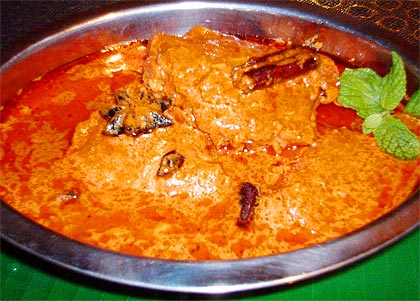 Red Chicken Curry is an easy stir fry curry dish made with chicken, bell pepper and carrot. This is truly an irresistible recipe because of its unique ingredients.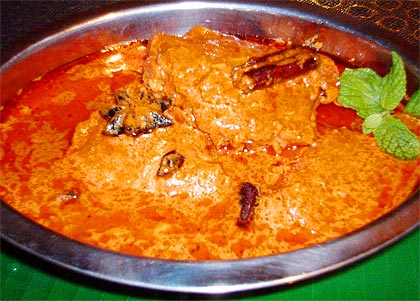 Preparation time: 10 minutes
Cooking time: 30 minutes
Servings: 4
Ingredients:
400 gms chicken
1 onion thinly chopped
1 green bell pepper thinly chopped
1 cup carrot peeled and thinly chopped
2 tbsp ginger-garlic paste
1 tbsp green chillies paste
1/2 tsp red-orange food color.
1/2 tsp sesame seeds paste
1 tsp cashew nuts paste
2 tsp tandoori masala powder
1-1/2 tsp curry powder
1 tbsp ghee
1 tbsp vinegar
Salt to taste
How to make Red Chicken Curry:
Cut the chicken into medium size chunks.
Marinade the chicken in the mixture of ginger-garlic, green chillies, food color, paste of sesame seeds and cashew nuts, curry powder, salt and tandoori masala powder.
Keep aside at least for an hour.
Melt the ghee in a non-stick pan.
Add onion along with bell pepper and carrot. Saute for few seconds.
Add marinade of chicken, mix well and add vinegar.
Cover the pan and leave to cook for about 30 minutes until chicken tenders and turns into medium thick curry dish.
Serve hot with roti or rice and accompanied by salad and chutney.
Chef Tips:
When the chicken is under cooking, it is very important to check and stir occasionally, so that it will not stuck in the bottom of the pan.
You can garnish this dish with fresh coriander and mint leaves.