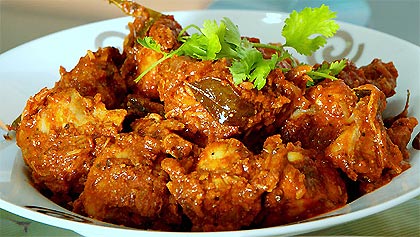 Dry Chicken Curry is a delicious dry chicken dish. Here chicken is cooked in coconut milk based thick white gravy and makes dry as well as curry recipe. You can use whole or boneless chicken to make this recipe. This recipe is little bit of sweet flavor, but the people who like spicy food can adjust it with their choice of spices.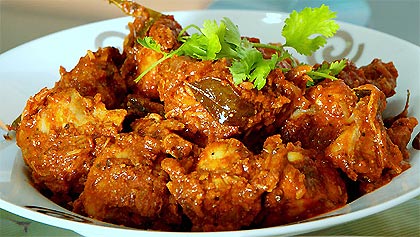 Preparation time: 10 minutes
Cooking time: 30 minutes
Servings: 4
Ingredients:
1/2 kg chicken (whole)
2 big onions coarsely chopped
1 tsp cumin seeds
1 tsp mustard seeds
1 tsp black pepper
2 tsp ginger-garlic paste
8 green chillies paste
2 dried red chillies
1 tsp fresh lemon juice
1 tbsp fresh cream
1 tsp butter or vegetable oil
1 cup coconut milk
1 tsp coriander powder
1/4 tsp turmeric powder
1 tsp Kasuri methi
Salt to taste
How to make Dry Chicken Curry:
Wash and clean the chicken thoroughly in lukewarm water.
Squeeze out the water from the chicken as much as you can.
Combine chicken, salt, turmeric powder, fresh cream, black pepper into a mixing bowl.
Cover and keep aside for 30-40 minutes preferably in refrigerator.
After that heat a pan and melt the butter in it.
Add cumin and mustard seeds. Saute well.
Add ginger-garlic, green chillies paste.
Stir continue so that butter will not get burnt.
Break the dried red chillies in 2-3 pieces and mix in the pan.
Add the pieces of chicken and coriander powder.
Mix well and cook on low flame for 5 minutes.
Now add onion and lemon juice.
Add 1/2 cup of water and cover the pan.
Leave to cook for 15-20 minutes on low flame.
Cover it tightly or keep a weight on the lid.
After 20 minutes mix coconut milk and stir continue to get a dry and thick gravy.
Lastly add kasuri methi and serve with chapati or butter naan.
Chef Tips:
You can make the paste of onion and mix in the curry.
You may garnish this dish with nuts and raisins.