Bhuna Chicken is the famous Indian chicken dish and considered as a lighter version of takeaway favorites. Boneless chicken pieces are smeared in tomato based gravy and cooked in fresh fragrance of ginger, garlic and bhuna masala. Chicken Bhuna is a popular dish all around the world and can be seen almost in every Indian restaurant's menu.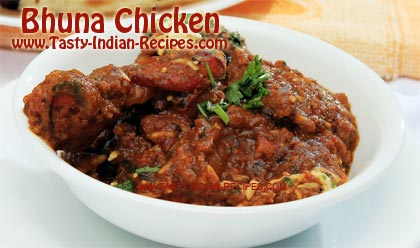 In good old days there was no food processors available to our chefs and hence they use to cut everything with knife.  It is very important that you cut onion, tomatoes and other ingredients with knife to get authentic flavors in your dish.
Bhuna chicken is often served with Indian Tandoori Roti or Naan / Butter Naan. Bhuna Chicken is also served in Indian wedding and parties.    Learn how to make Restaurant style bhuna chicken recipe at home.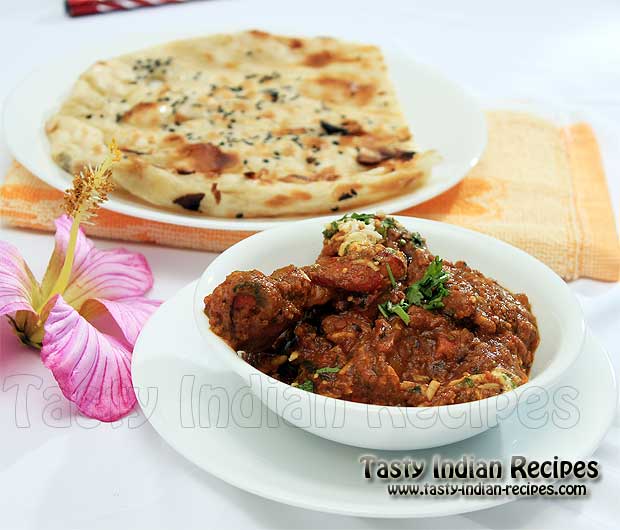 How to make Bhuna Chicken Recipe :
Bhuna Chicken Recipe is the famous Indian chicken dish, cooked in fresh fragrance of ginger, garlic and Bhuna Masala.
Ingredients
500gm chicken on bone
2 big onions finely chopped
3 tomatoes finely chopped
1 tablespoon cashew nuts paste
8 cloves garlic finely chopped
2 inch ginger minced
2 green chillies finely chopped
1/2 teaspoon red chilli powder
3/4 teaspoon coriander powder
2 teaspoon lemon juice
1 teaspoon garam masala powder
1 bay leaf
1/2 teaspoon cumin seeds
2 green cardamoms
1 star aniseeds
1 clove
1 teaspoon kasuri methi (dried fenugreek)
2 tablespoon ghee /oil
A pinch of red food color
Salt to taste
Instructions
Clean the chicken pieces in tap water and apply salt and lemon juice all over on chicken pieces. Cover and Keep aside.
Melt the ghee in a non-stick pan and add bay leaf, clove, cumin seeds, cardamoms and aniseed.
Saute altogether for few seconds. Add finely chopped onion and keep stirring. Add green chillies, ginger and garlic and continue saute till oil begins to separate. Now add fine chopped tomatoes, salt and spices.
Reduce the flame and cover the pan for 2 minutes. Uncover and keep stirring until the onion-tomato mixture softened and seems like a bhuna paste. This procedure, we could have done through the chopper, but I deliberately needed finely chopped onion, ginger, garlic and tomatoes with the hands, because you can really feel the bhuna taste in this way, so keep stirring and trust me your time is worth for everything here. After few minutes of cooking on low flame, add chicken pieces and saute well with bhuna mixture.
Add 2 cups of water, cover the pan, simmer the flame and leave to cook until chicken is well done. In between, put a drop of food color, mix very well by adding dried fenugreek as well.
After 8-10 minutes, mix the cashew nuts paste very well in chicken pieces. Finally garnish the dish with fine chopped coriander leaves.
Notes
Serve hot with naan or roti.
Tasty Indian Recipes