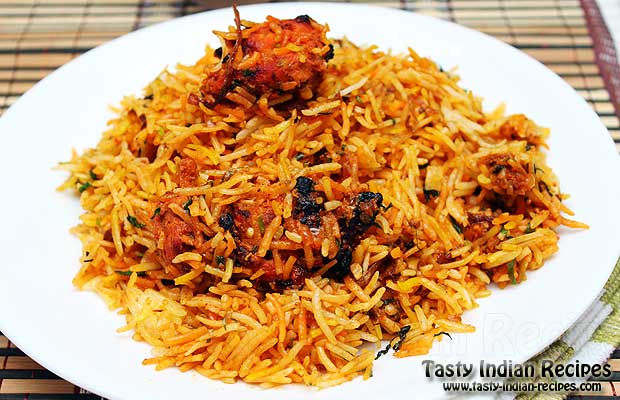 Chicken Biryani is the delicious Mix of chicken and basmati rice. Learn how to make restaurant style Chicken Biryani Recipe. Here chicken is cooked in rich Indian spices and lots of flavored ingredients and then mixed with the cooked rice. Each and every layer of the chicken biryani brings an awesome taste and flavor to the dish.
Preparation time: 10 minutes
Cooking time: 40 minutes
Servings: 4
Ingredients:
250 gms chicken breast (boneless and skinless)
1-1/2 cup long grained rice (preferably basmati)
2 tbsp fresh yogurt (curd, dahi)
1 big onion thinly chopped
1 onion sliced
2 tomatoes finely chopped
1 tbsp garlic chopped
1/2 tsp ginger paste
2 green chillies chopped
1 tsp kashmiri red chilli powder
1/4 tsp turmeric powder
1 tsp coriander powder
1/2 tsp garam masala powder
A pinch of saffron
2 tbsp milk
1 tsp butter
Vegetable oil
2 tbsp ghee
Fresh cilantro chopped
Few mint leaves chopped
1 tsp fresh lemon juice
Salt to taste
Whole garam masala:
1 bay leaf
1 dried red chilli
2-3 cloves
3-4 black peppercorns
1/2 tsp carom seeds (whole shah jeera)
2 green cardamoms crushed
1/2 black cardamom crushed
How to make Chicken Biryani:
Wash and clean the rice in normal running water and then boil them with little bit of salt.
Drain and keep aside.
Wash and clean the chicken breast and chop into medium size pieces.
Apply salt, lemon juice and Kashmiri red chilli powder on the pieces of chicken.
Combine yogurt, salt, turmeric powder, ginger and garlic.
Mix well and add the chicken.
Mix the chicken pieces thoroughly in the mixture and keep aside for 5-6 hours.
Soak the saffron in the milk and keep aside.
Heat sufficient oil in a pan and fry the sliced onion until browned.
Remove on paper napkin to drain the whole oil.
Melt the ghee in a pan, add whole garam masala.
Saute for few seconds until it spreads its aroma.
Add chopped onion and green chillies.
Fry the onion till it turns into light golden brown in color.
Add tomatoes and adjust with the salt.
Mix well and cook for 4-5 minutes on low flame.
Add the chicken, coriander powder and garam masala powder.
Also add 1/2 cup of water.
Cover the pan, simmer the flame and cook until chicken tenders.
When the chicken is done, then take out half of the cooked chicken from the pan and start making the layers.
Leave half of the cooked chicken in the pan, spread a layer of rice, some brown onions, half saffron, cilantro, butter, mint leaves and lemon juice.
Now place the remaining chicken and again make the layers of the remaining rice, brown onions, saffron, butter, mint leaves, cilantro and lemon juice.
Cover and seal the pan tightly with the aluminum foil.
Leave to cook on low flame for 5-6 more minutes.
Serve hot.
Chef Tips:
You can use whole chicken for making this biryani.
If the marinated chicken is kept overnight, then too you can make this biryani on the next day.
Always go for the fresh chicken.
If you are buying frozen chicken then carefully check the manufacturing and expiry dates.
Normally frozen chicken can be refrigerated for 3-4 days.
Now a days brown onions are ready available in the market.