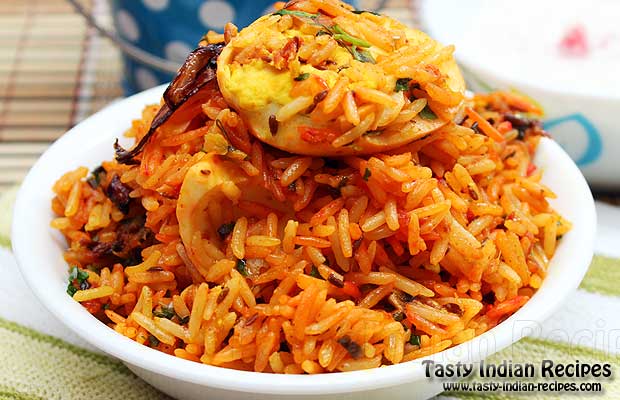 Egg Biryani is the delicious rice recipe made with boiled eggs, basmati rice and rich homemade masala gravy. It is the best main course dish to serve at any time. Learn to make easy and tasty homemade egg biryani in just few minutes and enjoy as and when you want.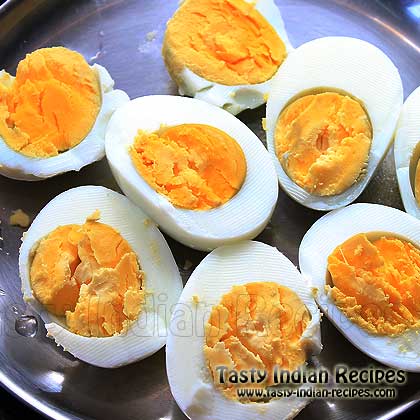 How to make Egg Biryani:
Egg Biryani Recipe is the simple biryani served with Boiled Eggs flavored in Indian Spices. Egg biryani is perfect combo of flavorful rice and boiled Eggs.
Ingredients
4 eggs (boiled and peeled)
1 cup basmati rice
2 big onions thinly chopped
2 tomatoes thinly chopped
2 tablespoon yogurt
2 green chillies chopped
4-5 cloves garlic chopped
1 inch ginger minced
1 bay leaf
2-3 cloves
2-3 peppercorns
1 inch cinnamon stick
1 black cardamom crushed
1 green cardamom crushed
1 teaspoon red chilli powder
1/2 teaspoon turmeric powder
2 teaspoon biryani masala powder
A pinch of saffron
2 tablespoon milk
Vegetable oil
ghee
1 cup Brown onions
1/2 teaspoon fresh lemon juice
Fresh coriander leaves chopped
Few mint leaves chopped
Salt to taste
Instructions
Boil the basmati rice in water with little bit of salt. Drain and keep aside. Slit the boiled eggs into two pieces. Keep aside. Soak the saffron in milk and set aside.
Heat the oil in a kadhai. Add bay leaf, cloves, peppercorns, cardamoms and cinnamon stick.
Saute for few seconds. Add green chillies, ginger and garlic. Saute for few more seconds.
Add chopped onion, fry onion for 2-3 minutes until translucent. Add the thinly chopped tomatoes. Add salt, red chilli powder and turmeric powder.
Mix well and cook until oil begins separating, it will take about 5-6 minutes. In between add lemon juice.
Add curd and mix well. Add the boiled eggs. Mix very gently. Leave only for few seconds and turn off the gas. Now lets make the layers for biryani. Heat the vessel with deep shape. Drizzle little bit of oil, add half of the cooked rice, top with the layer of egg masala. Spread little amount of saffron with milk, brown onions and sprinkle few coriander and few mint leaves. Spread little bit of biryani masala powder. Again pour a tsp of ghee all over, spread some rice, remaining egg masala, brown onions, biryani masala, saffron, coriander and mint leaves.
Toss very gently, cook only for 2-3 more minutes. Serve hot with raita or eat as it is. They are yummy.
Notes
Biryani will taste more delicious if you will use ghee instead of oil. Whereas I have used somewhere oil and somewhere ghee.
Tasty Indian Recipes
Chef Tips:
Biryani will taste more delicious if you will use ghee instead of oil. Whereas I have used somewhere oil and somewhere ghee.
For making brown onions, take 2 big onions, cut into thin slices and then deep fry in hot oil until light brown in color. Fry evenly and take out on oil absorbent paper.
These brown onions can be refrigerated for 3 days.