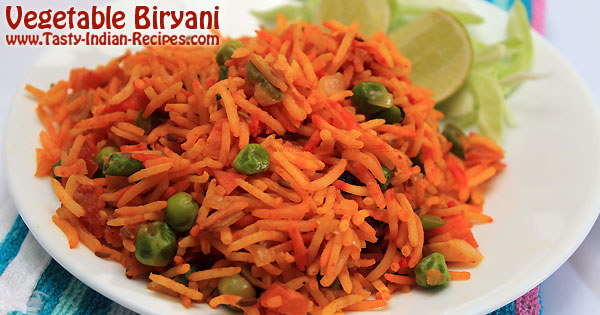 Vegetable Biryani recipe has wholesome flavors of several healthy vegetables. Basmati rice are layered with quickly made vegetables in a tomato based gravy. Add your favorite veggies and garnishing ingredients and start making it today itself.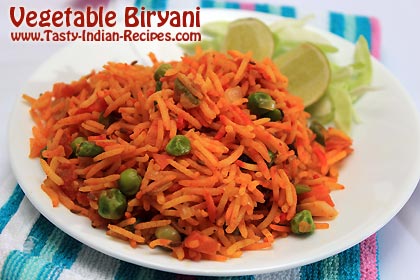 Ingredients :
Vegetables you for making biryani are :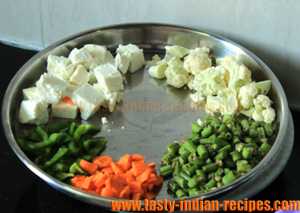 Ingredients for Whole garam masala are: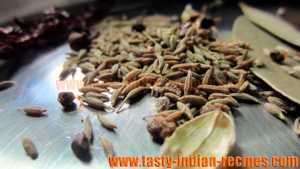 For making gravy you will require: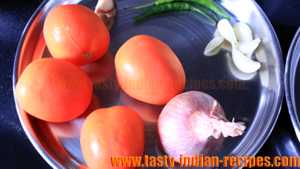 How to make Quick & Easy Vegetable Biryani Recipe:
Vegetable Biryani is made with Basmati Rice and several Healthy Vegetables. Vegetables are cooked in Tomato Based Gravy with the wholesome flavors of Whole Garam Masala and then mixed with cooked Basmati Rice.
Ingredients
2 cups basmati rice
4 cups water
Little bit of salt

Vegetables for making biryani are:

1 cup paneer (Indian cottage cheese), cubed
1/2 capsicum, sliced
1/2 carrot, peeled and chopped
1/2 cup french beans, chopped
1/2 cauliflower florets, chopped
1/2 cup green peas (optional)

Whole garam masala you will require:

1/2 tsp cumin seeds
1 bay leaf
1 inch cinnamon
2 green cardamoms
2 black peppercorns
2 cloves
1 whole Kashmiri red chilli
1 star aniseed

For making gravy you will require:

1 onion, sliced
4 small tomatoes, quartered
4 cloves garlic
1 inch ginger
2 green chillies

Other ingredients :

1/2 tsp red chilli powder
1/2 tsp turmeric powder
1/2 tsp garam masala powder
1/2 tsp crushed kasuri methi
1 tsp lemon juice
1 tbsp brown onions (for garnishing)
Fresh coriander leaves, finely chopped
Salt to taste
2 tbsp cooking oil
Instructions
Soak the rice in normal water for about 30 minutes. Boil them in 4 cups of water by adding little bit of salt.
Till the rice are boiling, lets do the preparation of vegetables and other ingredients. Chop the onion in thin slices and keep aside.
When the rice are done, strain and set them aside.
Heat the pan or the vessel in which you are going to make biryani.
Add oil and heat it enough. Add sliced onion and fry until onion translucent and little browned.
Remove fried onion from the flame and set aside to cool down.
In the grinder, combine tomatoes, ginger, garlic, green chillies and fried onion.
Keep few fried onions aside, for using at the time of garnishing of biryani. Make sure fried onions are properly cooled down and then put a tight lid on grinding jar.
Grind altogether to make a smooth puree.
Heat the same vessel again, in which onions were browned.
Saute whole garam masala for few seconds.
Add prepared puree of onion and tomato.
Stir in salt and dry spices.
Keep the flame low, cook uncovered and allow the gravy to thicken.
Now add chopped vegetables (except paneer) into gravy and mix well.
Cover the vessel and leave to cook for about 5-6 minutes, until vegetables tenders.
Meanwhile, heat little oil in another pan, shallow fry paneer pieces and keep aside. When the vegetables are almost done, add fried paneer pieces, lemon juice and kasuri methi. Cook till the vegetables are little dried and water is almost evaporated. At this moment, add boiled rice and season with some salt.
Mix very gently and cook uncovered for 2-3 minutes on low flame.
Garnish with reserved brown onions and chopped coriander leaves.
Serve delicious and piping hot quick and easy vegetable biryani with raita, pickle and papad.
Notes
You can add your favorite vegetables and get it done very quickly. I have used leftover vegetables of my fridge and paneer was luckily available, but if you do not have paneer, then too go ahead and enjoy making it.
Tasty Indian Recipes
Further Reading :