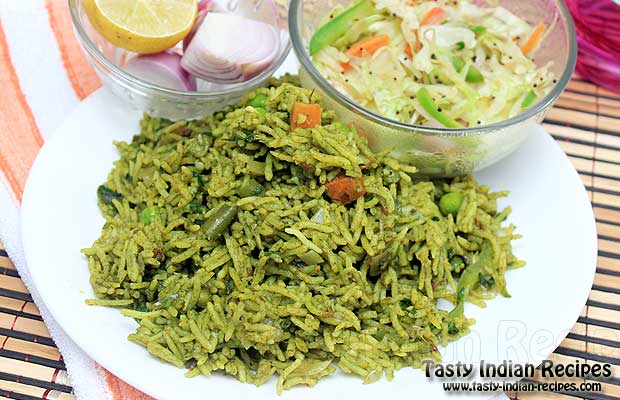 Hyderabadi Biryani is one of the most famous Authentic Indian Biryani Recipe. If you are using proper spices, then you can get a true taste of Hyderabad flavors. Good quality basmati rice are cooked with fresh Indian Green Veggies, Herbs, Spices and Dry Fruits.
This rice dish is a true and authentic Indian recipe and you can feel each and every flavor with each and every bite of this biryani.
A traditional dish of Hyderabadi Nizami extravaganza. These delicious mix vegetables cooked to perfection with cinnamon flavored Basmati rice. It defines a unique style of steam cooking. These dishes are cooked in traditional handis sealed with kneaded flour.
The biryanis which I have seen my mom making at home have always been cooked on dum. My mom makes the best veg biryanis and I have seen her many times cooking biryani with a lot of love and care. You really have to cook the biryani with a lot of love and care. There should be no hurry and cooking a biryani takes up some time. Yet it is worth it. It is one of the most grand, noble and delectable recipe from India.
How to make Hyderabadi Biryani Recipe:
Hyderabadi Biryani Recipe
Hyderabadi Biryani Recipe is the special delicacy of Hyderabad. This unique Biryani contains lots of flavors of Fresh Herbs, Spices, Green Veggies and Dry Fruits.
Ingredients
3 cups basmati rice
2-3 green chillies finely chopped
2 inch ginger minced
6-8 cloves garlic chopped
2 big onions finely chopped / sliced
1/2 cup chopped french beans
1 cup carrot (peeled and diced)
1/2 cup green peas (mattar)
1/2 tsp saffron soaked in 1 cup of milk
4 tbsp blanched cashew nuts
4 tbsp blanched almonds
2 tbsp raisins
1-1/2 cups fresh yogurt (curd/dahi)
1/2 tsp red chilli powder
1/2 tsp turmeric powder
2 tsp rose-water
1 tbsp cumin seeds
Few curry leaves (broken in bits)
1/4 cup coriander leaves paste
1/2 cup mint leaves finely chopped /paste
2 tbsp fresh lemon juice
Some brown onions for garnishing (optional)
3 tbsp ghee
Salt to taste
Whole garam masala (bay leaf, 2 cardamoms, 2 cloves, 1 inch cinnamon, 1 star aniseed)
Instructions
Wash the rice thoroughly in water and soak in 6 cups of water for about 30 minutes. Bring the rice on a boil by adding salt and whole spices. Drain the boiled rice in colander and keep aside.
Soak the almonds in water for half an hour and keep aside.
Melt ghee in a big pan and add cumin seeds along with curry leaves.
When the seeds starts to splutter, add green chillies, ginger and garlic. Saute for few seconds by gradually adding chopped onion.
Fry until onion turns golden brown.
Now add chopped vegetables, salt and spices.
Stir fry the veggies for few more seconds and then mix the curd in it. Simmer the flame until vegetables tenders.
When the vegetables are done, you may add chopped dry nuts.
Sprinkle little bit of saffron mixture and stir in coriander leaves paste and chopped mint leaves.
Spread some lemon juice all over, spread half of cooked rice and top with half of rose-water.
Repeat the same procedure by arranging the leftover ingredients in same way.
At this time, top the biryani with boiled soya chunks and brown onions as well.
Top with remaining rice, saffron, lemon juice, mint and coriander leaves.
Place a moist cloth on the lid of the pan and cover it tightly so that it gets sealed.
Now place the pan or handi on dum in preheated oven for 10 minutes.
Put the handi on dum in a pre-heated oven for 15-20 minutes.
Serve this delicious hyderabadi biryani hot with raita, pickle and roasted papad.
You can flavor the biryani with your favorite veggies and garnishing ingredients.
Notes
Serve the yummy veg biryani with your choice of raita, onion-mint salad-kuchumber, mango pickle, roasted papad. Other accompaniments for this Hyderabad Veg Biryani would be Mirchon ka Salan…. the way the Biryani is traditionally served in Hyderabad.
Tasty Indian Recipes