Vegetable Biryani Recipe is the traditional and one of the most famous dishes from the kitchen of the Mughal Emperors. It is rice based dish, contains the fragrance and flavors of whole garam masala. Here Basmati Rice are cooked with Several Healthy and tasty vegetables and then biryani is flavored with Saffron, mint leaves, coriander leaves, biryani masala and dry nuts.
You can make variety of Biryani Recipes in your home, such as Vegetable Biryani, Chicken Biryani, Mutton Biryani or even Egg Biryani. Biryani is served in all parts of India and forms an integral part of Indian cuisine.
There is a difference between biryani and pulao. Pulao is generally cooked by mixing the ingredients together, where as biryani is dish where plain rice are cooked separately and curry is made separately, then both rice and curry are to be brought together and layered and flavored with spices, dry fruits and mint and coriander leaves.
One should take care of important aspects while making perfect biryani at home. First of all, pick the rice of best quality, preferably basmati and long grained. Choose tasty vegetables and spices for adding into biryani and lastly it is highly recommended to cook the biryani in ghee rather than oil, because ghee enhance the flavor of biryani and makes it more aromatic.
An Authentic Indian Vegetable Biryani must be cooked on dum or on a low flame. It brings originality to the biryani. This is how the biryani has the beautiful medley of the aroma, taste and flavors of several ingredients. What is dum cooking or dum pukht? It is nothing but an art or a technique of cooking biryani or any food item in steam, which means by not allowing the steam to escape.
Dum Pukht literally means choking off the steam. Generally the food which is made on dum is kept in sealed serving dishes or containers, and in India such type of utensils are called as clay pots or handi. While cooking on dum or on a low flame, these pots are sealed tightly with wheat flour dough. This does not allow the steam to pass. The food gets cooked in its own steam and juices on a slow fire infusing the flavors and aroma of herbs and spices.
It is a belief that while cooking in such way the nutrients are also not lost in this process and hence the food is nutritious too. This tradition of dum pukht originated in Persia where the dish was prepared, sealed and then buried in hot sand to mature. Dum Pukht is a part of the Avadhi/Awadhi Cuisine which is from the city of Lucknow – Uttar Pradesh.
Nowadays Dum Pukht technique is used in several parts of India and mostly seen in Hyderabadi, Mughlai and Punjabi cuisines. Today, let us show you you how to cook simple. easy and tasty Vegetable biryani recipe at home.
How to make Vegetable Biryani Recipe:
Vegetable Biryani Recipe is an Authentic Indian Rice Dish made with Basmati Rice and Several Vegetables and flavored with Saffron, Mint, and Cashew nuts.
Ingredients
For making Rice you will need:

1 cup basmati rice
2 cups water
1 clove
2 black peppercorns
1 bay leaf
1 small piece cinnamon
Salt to taste

For making Vegetables Gravy you will need:

1 cup cabbage, shredded (optional)
1/2 cup beans, chopped
1/2 cup cauliflower, chopped
1/2 cup green peas (fresh or frozen)
1/2 cup carrot (peeled and chopped)
1/2 capsicum, sliced
1 big onion, sliced
2 tomatoes, coarsely chopped
6 cloves of garlic
1 inch ginger
2 green chilies
1 bay leaf
1 teaspoon caraway seeds/shah jeera
2 green cardamom
2 cloves (laung)
1 inch cinnamon
1 mace
1/2 teaspoon red chilli powder
1/2 teaspoon turmeric powder
1 teaspoon Biryani masala (available in market)
1 cup whisked yogurt (curd /dahi)
1/10 tsp red-orange food color
1/2 tablespoon ghee
2 tsp cooking oil
Salt to taste

For garnishing of Biryani you will require:

Few saffron strands soaked in half cup of warm milk
Few mint leaves, chopped
Few coriander leaves, chopped
1 tbsp brown onions
Few cashew nuts, blanched (optional)
Instructions
Rinse the rice in running water and soak them for about 30 minutes. Cook the rice in water by adding salt, clove, peppercorns, bay leaf and cinnamon.Cook on a medium high flame, till the rice are 3/4th done.
Drain the rice, take out the whole garam masala and fluff the rice with fork.
Chop one onion in thin slices.
Also put chopped and shredded vegetables in water to keep them fresh.
Heat oil in a pan and stir fry the sliced onion.
When the onion is nicely browned. Keep it aside to cool down.
Now put the tomatoes, ginger, garlic and green chilies in a blender. Keep about 1 tbsp of brown onions aside, as it will be used later for garnishing biryani and mix the remaining fried onion with tomatoes in blender. Blend for a few seconds to get a nice color of gravy.
Now melt ghee in a pan and throw in bay leaves, cinnamon, cloves, mace, cardamoms and caraway seeds. Fry this whole garam masala till it starts crackling.
Now add prepared puree and cook it for 2-3 minutes on a low flame.
Mix in cabbage, cauliflower, carrot, beans, green peas and capsicum in it. Also add 1/2 tsp red chili powder, 1/2 tsp turmeric powder, 1/2 tsp biryani masala and salt to taste.
Give the mixture a quick stir on a medium flame.
Now add yogurt/curd in it. After 2 minutes of cooking, add 1/2 cup of water along with food color. Cover the pan and leave to cook for about 5-6 minutes till the vegetables are half cooked. When the vegetables are half cooked, take out half of cooked vegetables from the pan and keep aside, it will be used for making layers.
Now spread some rice over the veggies and garnish with some brown onion, soaked saffron mixture, 1/4 tsp biryani masala, mint leaves and coriander leaves. Now make one more layer of vegetables and rice and finally spread remaining garnishing ingredients, that is brown onions, remaining biryani masala, mint leaves, saffron mixture, coriander leaves and blanched cashew nuts.
Cover the pan with a lid and leave to cook for 4-5 more minutes on low flame and your biryani is ready to serve.
Notes
While serving vegetable biryani, make sure you equally serve the vegetables as well as rice. Serve the yummy veg biryani with your choice of Raita, Kachumber Salad and Carrot pickle. If you want, you can add paneer cubes and mushroom in this biryani.
Tasty Indian Recipes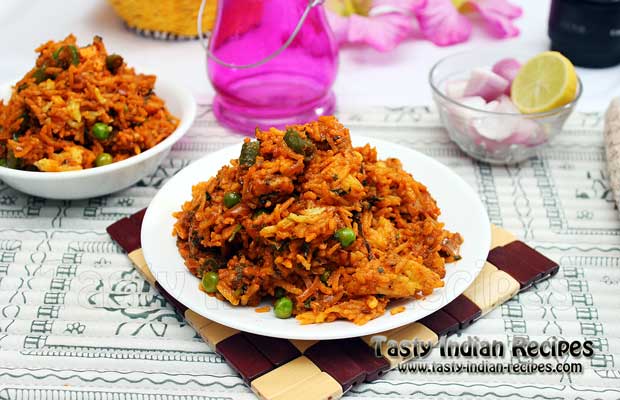 Chef Tips:
If you want you can sprinkle some rose water for more flavors in biryani.
One more technique of making this biryani at home is that, you can seal the pan with wheat flour dough or keep a heavy weight on the lid and cook on low flame. If you do not have the wheat flour dough. Place the sealed handi on the gas stove at low flame.