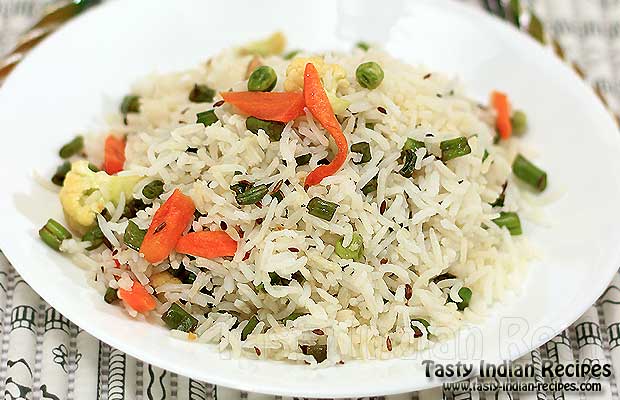 Vegetable Rice is cooked with Basmati rice and vegetables of your choice along with spices to enhance the aroma and flavors. It is the best way to use left over vegetables in the house. Vegetable rice recipe is a common dish of North Indian Cuisine. Here I am adding my favorite vegetables in basmati rice and making quick and a delicious side dish with dal fry and crispy aloo bhindi.
Preparation time: 20 minutes
Cooking time: 10 minutes
Servings: 6 persons
Ingredients:
4 cups basmati rice
1 tsp cumin seeds (whole jeera)
3-4 curry leaves (broken in small pieces)
2 small carrots finely chopped
2 small cups french beans finely chopped
1 cup cauliflower florets finely chopped
1 tsp vegetable oil
Salt to taste
How to make Vegetable Rice:
Wash basmati rice in the normal running tap water for 3-4 times.
Boil the rice in 7-8 cups of water with 1 tsp of salt or as per the instructions given in the packet of basmati rice.
Boil the rice fully and not partially done.
Drain the whole water and leave rice in the strainer to cool.
Heat up a pan, add oil.
As oil heats add cumin seeds and curry leaves, allow to crackle.
Add chopped beans, carrots and cauliflower.
Add salt, sprinkle little bit of water and cover the pan.
Cook on low flame for 3-4 minutes or until vegetables tender.
Add boiled basmati rice and adjust the salt, mix very gently.
Cook for few seconds on low heat.
Serve hot with yellow moong dal or chana dal and dry sabzi.
Chef Tips:
You can add whole garam masala while boiling the rice, in this way rice will become more flavorful.
You can add ghee instead of oil.
You can garnish basmati rice with chopped cilantro and roasted dry fruits.