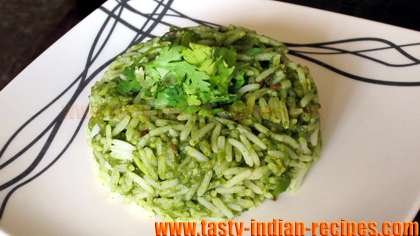 Learn how to cook a modern style Indian risotto recipe, named as Palak (Spinach) Risotto. Palak is one of the most healthiest leafy vegetable, filled with lots of vitamins, calcium and iron. I have introduced a new way to blend this healthy veggie with rice for making a complete healthy meal.
Palak or Spinach is considered as one of the most healthiest Green Indian Vegetable and you can inculcate it in your daily appetite by making variety of recipes, such as Palak Raita, Palak Soup, Palak Dal, Palak Paratha and many more.
You must add palak in your kids appetite as well, as it is necessary for their growth and brain development.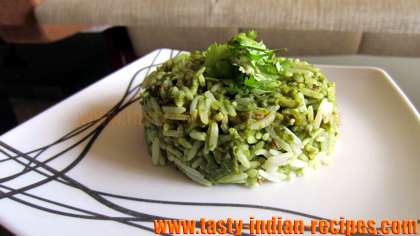 How to make Palak (Spinach) Risotto :
Palak (Spinach) Risotto Recipe
Palak (Spinach) Risotto Recipe is made with combination of healthy Palak (Spinach) and Basmati Rice. Both are cooked with Flavorful Indian Spices.
Ingredients
For making Palak you will require:

1/2 kg fresh palak (spinach leaves)
1 onion finely chopped
1 tbsp ginger paste
1 tbsp garlic paste
4 green chillies finely chopped
1/2 tsp cumin seeds (whole jeera)
2 tsp Amul Fresh cream
1/2 tsp sugar / honey
1/4 tsp red chilli powder
A pinch of turmeric powder
1/2 tsp garam masala powder
1/2 tsp dried mango powder (amchur)
Salt to taste
1-1/2 tbsp unsalted butter

For making Rice you will require:

1 cup basmati rice
2 cups water
Salt to taste
Instructions
Wash the palak leaves thoroughly in normal water and chop them coarsely.
Put the palak leaves into a blender and add little bit of water.
Blend until smooth and keep aside.
On the other side, wash the rice 2-3 times in tap water and boil them in water by adding salt to taste.
Drain the boiled rice and set aside.
Melt the butter in the skillet and add cumin seeds.
When the seeds starts to splutter, add green chillies along with ginger-garlic paste.
Saute until raw flavor disappears and then stir in finely chopped onion.
Saute continue until onion translucent.
Now add puree of palak and season with salt and spices.
Simmer the flame and cook for 6-7 minutes, till palak gets cooked very well.
Make sure, you need to cook until it thickens.
While cooking the palak, cover the skillet with lid and stir in between to avoid the burning.
When the palak is almost done, add honey or sugar and fresh cream.
Mix very well and keep the flame very low.
Mix the cooked rice very well with the cooked palak and after 2 minutes remove from the flame.
Now take a big round shaped cutter or any round shaped bowl.
Fill with palak risotto and turn upside down on serving plate.
Garnish with chopped cilantro and serve immediately to enjoy.
Notes
Palak Risotto is an ultimate meal, hence you need not to serve this with any other dish. You can enjoy it as it is and without adding any extra ingredient.
Tasty Indian Recipes