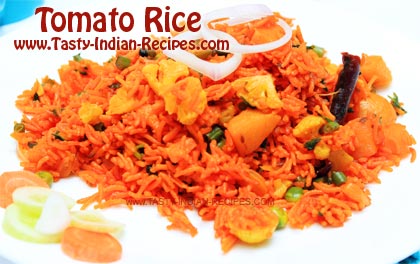 Tomato rice is a quick and delicious Indian rice dish. Tomatoes are very good for health, as they contains quality features for the body. Tomatoes have an anti-ageing affect on our body as they contain antioxidant lycopene and that can be easily absorbed by our body thereby leaving a healthy skin and hair.
We can make several types of Recipes, Side dishes and even salads with tomatoes. Here I have cooked basmati rice with flavorful spices and lots of tomatoes are added to bring a tangy taste in my rice.
If you like, you can garnish the rice with some blanched dry nuts as well. Tamatar Pulao is one of the special delicacy of South India and this special rice preparation does not need much ingredients.
Simply good quality tomatoes and rice are cooked in minimal spices. This rice dish is extremely easy in making and sometimes I even use leftover cooked rice. The sweet and tangy tart juices of tomato are beautifully absorbed by the rice and really turned out superb.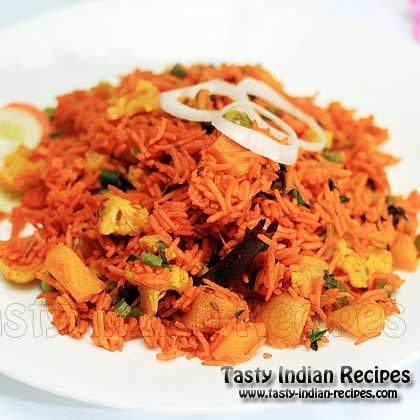 How to make Tomato Rice Recipe:
Tomato rice is a quick and delicious Indian rice dish. Lots of tomatoes are pureed and then saute with spices and basmati rice. Tomato Rice is the combination of Fresh Tomatoes, Basmati Rice and Spices. This Pulao can be quickly made at home and can be served as a Comfort Indian Meal
Ingredients
2 cups long grained basmati rice
4 big tomatoes (blended in a thick puree)
1/4 cup cauliflower florets
1 potato, peeled and cubed
2 tablespoon green peas
2 tsp garam masala powder
1-1/2 tsp red chili powder (lal mirch )
2 green chillies finely chopped
2 green cardamoms
A pinch of red-orange food color (optional)
A pinch of turmeric powder
1 whole black cardamom (bari ilaichi)
3 tbsp ghee
Salt to taste
4 cup water
Fried onions to garnish
Instructions
Wash the rice in normal tap water and soak for about 20 minutes.
Melt the ghee in a heavy bottom vessel or pan.
Saute whole spices along with green chillies.
Add puree of tomato, salt and spices.
Mix the soaked rice very well with the tomato puree.
Add water along with other vegetables and cover the pan.
Cook until the rice are well done.
Garnish the rice with some fried brown onions.
Serve with Indian raita and pickle.
Notes
Serve with Indian raita and pickle.
Tasty Indian Recipes