Egg Pulao Recipe is the stunning recipe made with Boiled Eggs and Basmati Rice. Here Fragrant basmati rice are cooked with Egg and Spices. It is a wonderful, comfort Indian meal, that combines the taste of Eggs and Rice in the gravy of onion and tomato.
Pulao is different than biryani, you can check out lot of Egg Recipes in my blog, such as Egg Fried Rice, Egg Bhurji, Egg Biryani, Egg Paratha and many more. You will observe that preparation of Egg Biryani and Egg Pulao is different. Egg Pulao Recipe doesn't need much ingredients, it also takes less time to cook than Egg Biryani.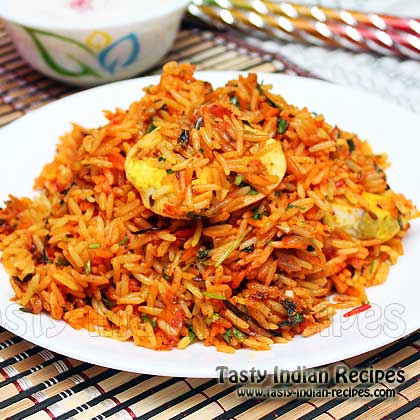 I don't follow any particular recipe, preferring to throw in spices and ingredients as I go. I prefer to make this pulao more quick and convenient. I took pretty detailed pictures and had to cut short a few to make the length of this post reasonable. It may seem like a lot more work than it actually is, because this egg biryani has many pieces that finally come together into a single dish, and for serving you don't really need a side dish except a simple Salad or Cucumber Raita and papad or chips.
It's a beautiful, sunny day today for making this delicious Egg Pulao Recipe, so let's get cracking. You can do a bunch of stuff simultaneously and I have written the order in which I cooked. Total time will depend on your speed on getting things done.  I used Tandoori Chicken Masala in my egg pulao recipe, because it gives a unique taste and a flavorful texture to the dish. It is available in every grocery store, if you do not get this masala, then add garam masala powder.
Check out more Biryani Recipes, if you have some time to browse around. My favorites are Chicken Biryani, Mutton Biryani, Vegetable Biryani, Hyderabadi Chicken Biryani and Paneer Biryani.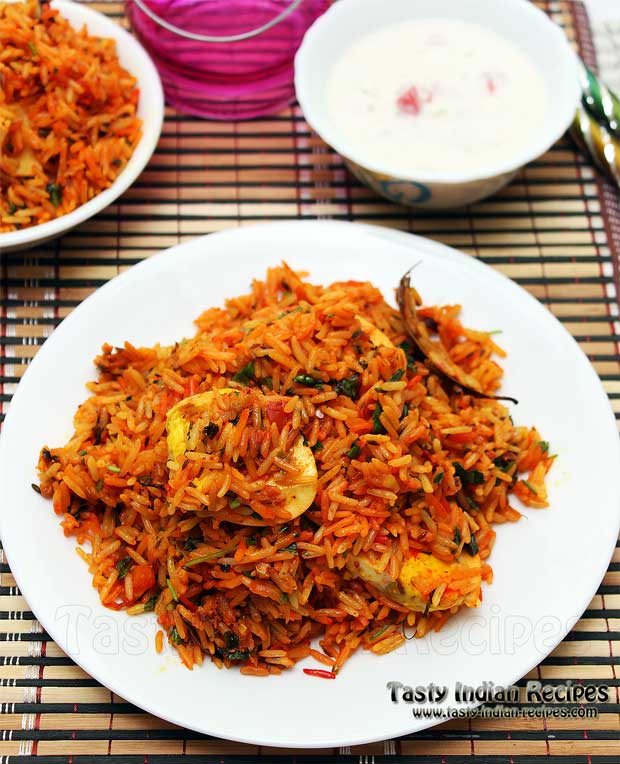 How to make Egg Pulao Recipe:
Egg Pulao Recipe is the delicious Indian Egg Dish made with Boiled Eggs and Basmati Rice. It can be easily made with few ingredients and enjoyed at lunch or dinner
Ingredients
1 cup Basmati Rice
4 Eggs
1/2 teaspoon cumin seeds
1 star aniseed
1 green cardamom
2 cloves
2 peppercorns
1 bay leaf
1 onion, finely chopped
2 tomatoes, fine chopped
2 green chilies, fine chopped
1 teaspoon ginger-garlic paste
2 tablespoon yogurt (curd/dahi)
1/2 teaspoon red chili powder
1/2 teaspoon turmeric powder
1 teaspoon tandoori chicken masala or garam masala powder
1 teaspoon crushed kasuri methi (dry fenugreek)
1 tablespoon oil
Few coriander leaves, chopped
Few mint leaves, chopped
1 tablespoon fried brown onions (for garnishing)
Salt to taste
Instructions
Soak 1 cup basmati rice in 2 cups of water for 20 minutes. Boil with some salt, drain and keep aside. For making brown onions, please check my Brown Onions Recipe. Keep it ready aside, as it will be used for garnishing this pulao. Boil 4 eggs in water, cool down and then deshell them. Cut each boiled egg in 2 pieces and keep aside.
Heat 1 tbsp oil in a deep shaped vessel and add 1/2 teaspoon cumin seeds, 1 star aniseed, 1 green cardamom, 2 cloves, 2 peppercorns and 1 bay leaf. Saute for a few seconds, till the cumin seeds starts spluttering.
Now add 1 fine chopped onion along with 2 fine chopped green chilies. Saute for a while and quickly stir in ginger-garlic paste.
Cook on a low flame, till the onion turns little brown and then add 2 chopped tomatoes. Mix well and leave to cook for 2-3 minutes on low flame, till the tomatoes turns mushy and little watery.
Now add 2 tbsp yogurt and mix well.
Cook for one more minute.
Mix in red chili powder, turmeric powder, tandoori masala powder and salt to taste.
Finally add crushed kasuri methi.
Carefully place the pieces of boiled eggs.
Now stir gently and add boiled rice. Spread little oil all over on rice. It gives a nice texture to the pulao.
Finally garnish it with some brown onions, coriander leaves and mint leaves.
Mix slowly and cover the vessel. Leave to cook on low flame for a couple of minutes.
Notes
If you want to making this egg pulao for a party or guests, then you can do some preparation in advance, such as, you can boil the eggs in advance and leave in the fridge unpeeled. Peel and slice before you need to use them. You can even boil the rice in advance and keep them aside. You can also pre-cook the rice and refrigerate it. Heat it along with the masala and it should work fine. This will also allow the rice to stay as separate grains. You can add some saffron in this pulao, it gives a nice fragrance.
Tasty Indian Recipes