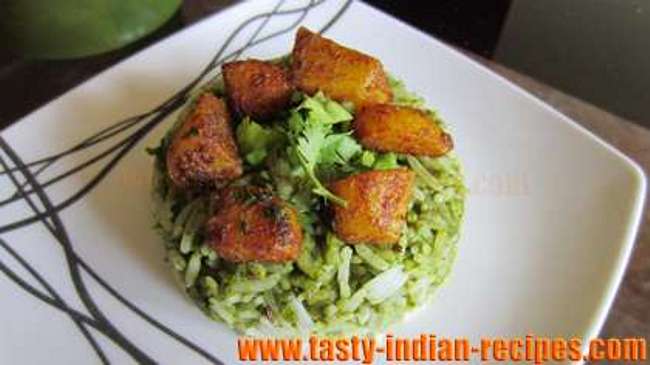 Learn how to make exotic Indian Risotto Recipe. Well, I have invented my own Indian Risotto and got the success. Cooked basmati rice are well blended with true flavors of Indian veggies along with fresh herbs and spices. This Risotto is a healthy option for the vegetarians and you can mix your favorite vegetables for enhancing your own creativity.
Indian Risotto is nothing but a delicious Indian Rice Recipe, which is made in one of the most healthy combination of Palak (Spinach) and Basmati Rice.
This Palak Rice is the healthy version of Indian rice recipe and you can even make it with leftover cooked palak and rice. It is a different meal to serve for lunch or dinner, you can even pack it up for tiffin of your kids and hubby. This combo is always favorite of all.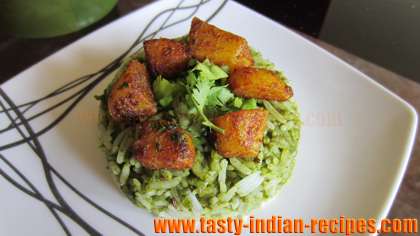 Ingredients:
For making Rice you will require:
1-1/2 cups long grained basmati rice
Salt to taste
3 cups water
1/2 tsp cumin seeds
Few curry leaves
1/2 tsp oil / butter
For garnishing you will require:

Fresh coriander leaves chopped
Few Fried potatoes
A pinch of chaat masala powder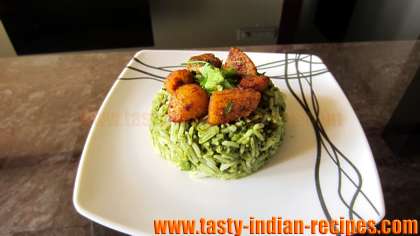 How to make Indian Risotto Recipe:
Indian Risotto is nothing but a delicious Indian Rice Recipe, which is made in one of the most healthy combination of Palak (Spinach) and Basmati Rice.
Ingredients
1 bunch fresh palak (spinach)
1 cup mint leaves
1 cup fresh coriander leaves
1 cup kasuri methi (fenugreek leaves)
2 green chillies
6 cloves garlic
1 inch ginger
1 small onion
1/2 tsp honey
2 tbsp Amul Fresh cream
1/2 cup milk
1/2 tsp turmeric powder
1/2 tsp coriander powder
1/4 tsp garam masala powder
1/2 tsp fresh lemon juice
Salt to taste
1 tbsp clarified butter
Instructions
Wash the palak and boil in its own water for few minutes.
Put the boiled palak into the blender and add mint leaves, coriander leaves and kasuri methi.
Blend together to make a smooth puree. Keep aside.
Put the onion, ginger, garlic and green chillies in a chopper.
Chop finely and keep aside.
If chopper is not available then you can chop the onion and green chillies with your hands and make the paste of ginger and garlic.
Wash the rice in normal running water, boil by adding little bit of salt.
Drain the boiled rice through the sieve and keep aside.
Melt 1 tbsp of butter in a pan and add chopped onions along with ginger, garlic and green chillies.
Saute for few seconds and then add prepared green puree.
Saute on low flame and stir in milk, honey, salt and spices.
Cover the pan and leave to cook for about 6 minutes until it thickens.
Finally stir in lemon juice and fresh cream.
Now heat 1/2 tsp oil / butter in a saucepan and add cumin seeds and curry leaves.
Allow the seeds to splutter and pour directly over the boiled rice.
Mix very well.
Mix the prepared rice into the green risotto gravy and cook on medium flame for 2-3 more minutes until rice blends very well with green puree.
Take a round shaped bowl or cutter, fill with the prepared risotto and flip upside down on a serving plate.
Garnish the delicious Indian risotto with some freshly chopped coriander, place some fried potatoes on the top and sprinkle little bit of chaat masala.
Serve immediately to enjoy.
Notes
You can make this risotto in medium thick gravy. You can garnish this risotto with some fresh cream or grate some cheese just before serving. You can use chicken or eggs for making non-veg Indian risotto.
Tasty Indian Recipes