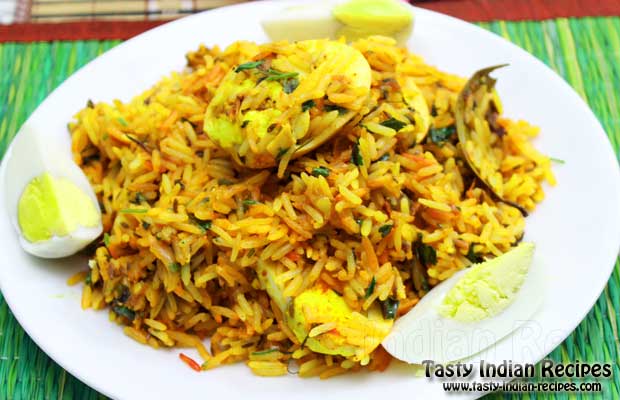 Egg fried rice is the unique twist to the common rice recipe. Here Basmati Rice are cooked in Boiled Eggs and Chinese Flavors. It's a good idea to use leftover rice and veggies for making such a quick, easy and delicious egg fried rice Indian style recipe.
This fried rice can be made very quickly if you have leftover rice at home. This is the Chinese (Indo Chinese) method of preparing egg fried rice. I personally like Egg Recipes, and this one is my most favorite, because it has Chinese flavors as well, which are my ultimate favorite ingredients.
This combo of Indian and Chinese style rice recipe is favorite dish among Kids as well. I prefer to boil the rice and eggs first and then mix them with Chinese Sauces. I like to serve them with my homemade Schezwan Sauce.
Egg fried rice is an ultimate meal itself, you can enjoy them as it is piping hot, you can even use leftover cooked rice for making a quick dinner meal, so I do not mind having this fried rice in dinner time. It taste delicious when served piping hot. Today we will learn how to prepare Chinese Egg fried rice following this easy recipe.
How to make Egg Fried Rice Recipe:
Egg Fried Rice Recipe is the unique twist to the common rice recipe. Here Basmati Rice are cooked in Boiled Eggs and Chinese Flavors. This rice dish is one of the favorite among Kids as well.
Ingredients
2 cups basmati rice, well cooked
4 eggs
2 green chilies (finely chopped)
2 small onions (finely chopped)
1 tsp ginger paste
1 tsp soy sauce
A pinch of white pepper powder
2 garlic flakes
1 tsp red chili powder
1/2 tsp turmeric powder
3/4 tsp garam masala
1 teaspoon vinegar
2 tbsp oil
Fresh coriander leaves, finely chopped
Instructions
Soak rice in water for about 20 minutes, boil and drain aside.
Boil the eggs, cut into desired pieces and keep aside.
Heat the oil in a pan add chopped onions.
Fry for few seconds and then add green chillies along with ginger and garlic.
Now add boiled rice and pieces of boiled eggs.
Toss the rice with salt to taste, a pinch of white pepper powder, soy sauce, red chili powder, turmeric powder, garam masala powder and vinegar.
Cover the pan, simmer the flame and leave to cook for few more minutes, to blend the flavors of boiled eggs, rice and spices.
Garnish with chopped coriander leaves.
Serve hot with delicious, homemade, Schezwan Sauce.
Notes
You can add fine chopped vegetables in this. If you have spring onions in your hand, then add handful of that as well. I like to garnish this rice with bay leaf and some brown onions, it is optional.
Tasty Indian Recipes